Steve Jann was a senior at the University of Michigan when he first discovered his passion for water. As an undergraduate studying natural resources, he enrolled in an aquatic ecology course where he had the opportunity to travel to the northern part of Michigan's lower peninsula to do stream surveys. It was this trip that inspired Jann to pursue a career in water management.
"It was gorgeous," said Jann. "We were in gorgeous country, beautiful streams, and beautiful trout… By taking that class, I was like – Wow! I want to do water."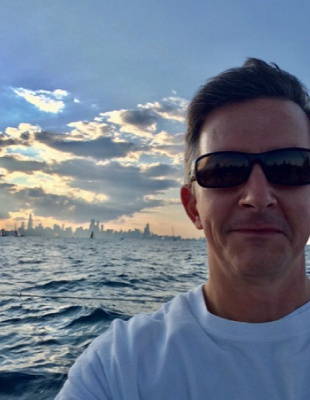 Following this passion, Jann enrolled in the Nelson Institute's Water Resources Management (WRM) program at the University of Wisconsin-Madison in 1989, preparing him for a nearly three decades long career in water management.
Jann has been working in the water division at the Environmental Protection Agency (EPA), Region 5 in Chicago, for nearly 29 years, currently serving as the Chief of the Water Permits Branch.
Having devoted his career to protecting vital water sources both locally and nationally, Jann expressed immense gratitude for the education that made it all possible.
"I'm really, really grateful for the education I got at Wisconsin," said Jann. "When one combines what I took as an undergrad with what I took at Wisconsin, it is the perfect mix of coursework for the career I've been in."
Jann said that the he was initially drawn to UW–Madison on a personal level, as he grew up in Illinois and the university was always a favorite of his as a kid. But, as Jann began to learn more about the WRM program, he found value in the program's interdisciplinary nature and flexible course options.
The WRM program permitted Jann to take courses across a wide range of departments, which he said allowed him to craft his learning in ways that complemented his undergraduate education.
In particular, Jann felt that he was lacking some of the technical skills needed for a water-centered career, so he enrolled in several courses at the UW-Madison College of Engineering. These courses included sanitary engineering, hydrologic design, industrial pollution control, and hydroscience, among others. Likewise, Jann took courses in aquatic sciences, environmental policy, and water law.
In the end, Jann said that this diverse blend of coursework equipped him with the knowledge and skills needed for his work at the EPA.
"Every single [class] was complimentary to the other and provided exactly what I use every day at work," said Jann. "Every single day we do science, we do engineering, we do policy, we do law, we do politics—every day. The Wisconsin program covered all of that stuff, and especially when put together with my undergraduate program."
Throughout his time at the EPA, Jann has been actively involved in creating, implementing, and enforcing policy aimed at reducing pollutants in ground and surface water as provided under the Clean Water Act and Safe Drinking Water Act.
Jann is especially proud of is his work to protect streams from manure runoff caused by concentrated animal feeding operations (CAFOs), also known as "factory farms."
Before Jann became a supervisor at the EPA, there was a period throughout the 2000s that he was considered a "national expert" on CAFOs. Jann said that this time also coincided with an "opportunity period" for improving water policy, giving him the unique chance to influence manure management.
"I'm pretty proud that I was able to really move the ball forward from a policy and a practical implementation perspective directed toward keeping manure out of rivers and streams, both within Region 5 and also nationally," said Jann. "I'm happy to have had the chance to influence that quite a bit, with long-lasting positive effects."
Additionally, Jann is also proud to have worked with several states to revamp their wastewater discharge permit programs to better align with the Clean Water Act.
Jann said that many Region 5 states have programs that are more than 40 years old, and that over time they have strayed from Clean Water Act standards. For the past decade, and continuing to this day, Jann has worked with several states, including Wisconsin, Illinois, and Indiana, to review, analyze, and reconstruct their water programs.
In reflecting on his career, Jann said that he finds value in the WRM program every day, and that it was an "excellent education" for his water-centered career.
To conclude, Jann acknowledged the WRM faculty and staff by stating, "Kudos to the full team!" and expressed his deepest gratitude to all those involved.