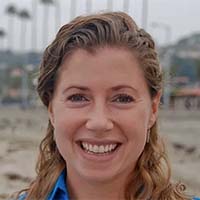 Alyson Fleming is the director of public-private partnerships for the Nelson Institute for Environmental Studies. With a background in oceanography, Dr. Fleming has worked in academia and policy, researching top predators and climate change, developing federal policy recommendations, and contributing to international fora across fisheries, climate, and protected species management.
Prior to joining UW–Madison, she was a professor of marine biology at the University of North Carolina Wilmington and a postdoctoral fellow at the Smithsonian's National Museum of Natural History.
While at the U.S. Department of State she assisted with the Presidential Task Force on IUU Fishing, helped produce Secretary John Kerry's first Our Ocean conference, and collaborated with the Office of Global Partnerships to advance global ocean conservation. She earned a BS from Tufts University and a PhD from Scripps Institution of Oceanography at University of California San Diego.