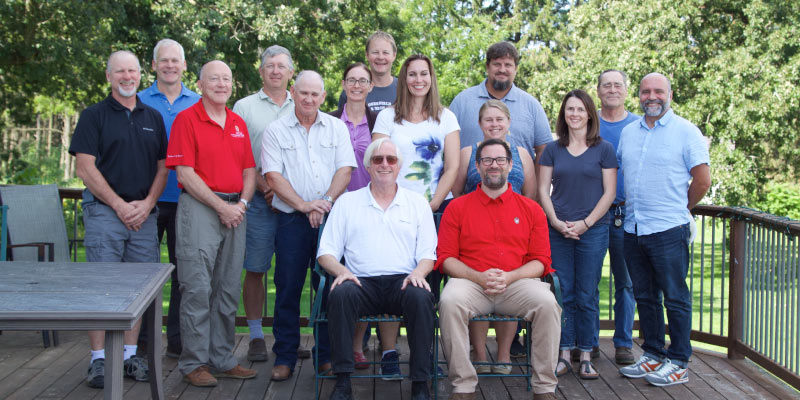 Wisconsin's Koshkonong Creek and its communities have been in deep water in recent years due to increased flooding. In an effort to improve the health of the waterway, UniverCity Year is partnering with the City of Sun Prairie, Towns of Deerfield and Cottage Grove, and the nonprofit Friends of Koshkonong Creek with support from Badger Farms to deliver an inventory and plan for the long-term flow of the creek.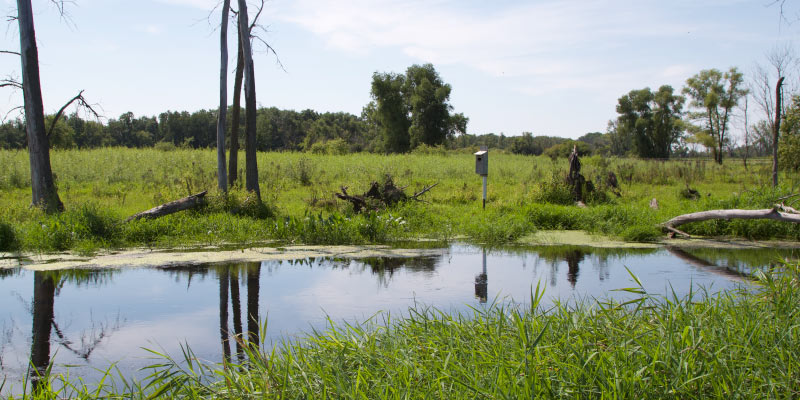 Located east of Madison, the Koshkonong Creek is a 36-mile waterway that runs from the City of Sun Prairie to Lake Koshkonong near Fort Atkinson. The project looks to combine local constituents and businesses with the minds of University of Wisconsin–Madison faculty and students to create class projects that will aid the creek in both present and future health.
From the Nelson Institute, adjunct professor Arlyne Johnson and professional programs director Nathan Schulfer will focus their class on evaluating the long-term conservation goals of Koshkonong Creek in Environmental Studies 972: Conservation Planning, a graduate level course for students who are interested in designing and managing conservation projects and programs.
"The focus of this project is to help the cities of Sun Prairie and Cottage Grove, along with a number of interested citizens groups, begin developing a plan for how Koshkonong Creek can be restored and better managed so the creek can be taken off the state of Wisconsin's imperiled waterways list," Johnson commented.
A team of five environmental conservation students will draft a long-term strategic plan that focuses on improving water quality, identifying potential strategies to achieve desired results, and detailing how to track progress and evaluate effectiveness all while staying within a time frame and budget. The plan will then be handed off to Professor Anita Thompson's water resources management (WRM) capstone class where WRM graduate students will then work to create a watershed management plan over the 2023 spring and summer semesters.
Additionally, Jan Kuchar and Mark Oleinik, College of Engineering adjunct professors, are leading an engineering capstone course that is looking at the drainage issues of the creek.  Associate Professor Andrea Hicks is teaching a sustainability and green engineering course that will review the economic and social implications of changes to the creek.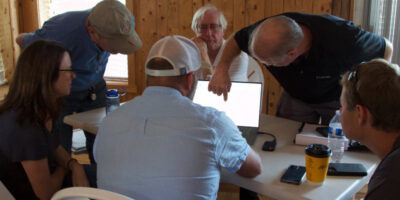 To introduce and begin collaboration on the project, leaders from engineering, governance, and planning aspects of the project gathered at Badger Farms, a hay farm and wedding venue located near the Koshkonong Creek in Cottage Grove on Wednesday, August 24. Owners Dave and Betsy Muehl moved to the farm in 1997 and have watched their land flood on and off over the past 25 years.
"When we first moved out here, it never flooded, and then in 2017, '18, '19, it was flooding quite a bit and we started to help clean out the creek to alleviate the flooding," Dave Muehl said. The Koshkonong Creek has fluctuated over the years depending on weather cycles. "In 2008, the water was up to my chest, and we went waterskiing out there. In 2012, it was the driest it's ever been."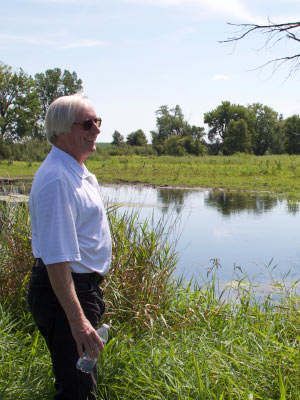 Muehl and other farmers in the area estimate that the creek's water level has increased 18 inches over the past 25-30 years due to multiple factors, including climate change and an increase in the release of treated water into the creek. He hopes that the partnership with UniverCity Year will bring the consistency and knowledgeable action that the creek needs. "The projects will be studying what's needed for the next 50 years to modify and improve the creek," Muehl said. "But it's not all going to happen at one time. Certain things have to happen now, and other things have to happen in the next five, 10, 15 years."
Learn more about UniverCity Year's Koshkonong Creek project.