Nelson Institute Environment & Resources graduate student Olivia Cosby is working to combine conservation and community outreach while conducting fieldwork in Sarawak, a state located on the island of Borneo, Malaysia with diverse ecosystems, rainforests, and protected lands.
Cosby's research centers around large mammal communities and their behaviors at the border of the protected lands in Sarawak. She observes these mammals and their connections to the land and people that surround them to understand interaction and mitigate human-wildlife conflicts.
"In this region, there are many indigenous communities living at the boundaries of protected forests that rely on the forest for resources, including subsistence hunting. Both past and present land use influences the structure of the landscape, so there is a strong interaction between people and wildlife," Cosby said.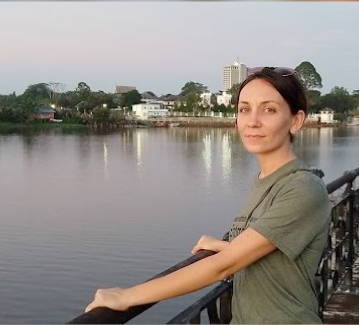 Also a fellow of the Smithsonian Conservation Biology Institute, Cosby explained that the project began as an international initiative with Sarawak Forestry Corporation to collect baseline data for developing plans for the long-term management of regional biodiversity. Her project investigates how traditional community practices structure the environment over a long period of time, through monitoring the availability of important wildlife foods and wildlife present.
Cosby's field site is located at the Lanjak Entimau Wildlife Sanctuary in Sarawak and involves camera trapping, a method of photographing and documenting wildlife activity in the area with trail cameras. She uses this information to observe the wildlife she sees and draw conclusions about their behavior in conjunction with their surroundings.
From the start, Cosby has been working to involve community members in her research by hiring them to assist with fieldwork.
Cosby's team first began hiring men because they had the most prominence in the community, but she quickly learned that women and younger generations were eager to participate too.
"Recognizing a need to make these efforts more multi-generational and identifying members of the population who are too often excluded is important if you want to have a lasting impact and build long-term partnerships," she said.
Cosby trained locals through workshops and hands-on fieldwork, teaching them how to map land boundaries and check trail cameras. Now, Cosby relies on the work of the community to continue her research.
"Rather than just assisting researchers, our goal is for local people to learn everything we do so they can work more independently to support conservation efforts. None of my work would be possible without my partnership with the community," she said.
Employing locals also helps the researchers show their respect for the community's ancestral ties to the forest and allows them to further understand the local people's conservation ethic.
"Local people are being involved in the research and taking ownership for their work. This can empower them to play a more active role in local conservation efforts, by being included in the conversation and given space to share their knowledge. As a result, we can help elevate local people in the eyes of decision makers. These communities understand the ecology of their forests better than anyone," Cosby said.
Although the COVID-19 pandemic has altered her plans, she stays in contact with the Lanjak Entimau Wildlife Sanctuary and the local researchers and protected area staff to ensure the continuation of this research project.
After completing her master's degree, Cosby plans to return to Sarawak to continue her work with the community with the goal of expanding capacity building activities that support ongoing wildlife monitoring programs, with a special focus on creating more opportunities for women and youth to get involved in conservation efforts. She also plans to visit local schools to teach children about local research, using photography and storytelling to encourage their involvement and help them become advocates for the environment.
Cosby commends Nelson Institute for the flexibility she has to personalize her experience and research as an Environment & Resources major.
"It's valuable to have a multi-disciplinary skillset when you're working in conservation and applied sciences. I really appreciate the fact that Nelson allowed me to make these connections," Cosby said.
Cosby encourages students and community members to become involved in conservation efforts both near and far.
"It can be so intimidating to take on new opportunities, but if you approach things really honestly and stay resolved, there's a place for everyone to do this type of work," she says.
Cosby was also featured in the College of Agricultural & Life Sciences Grow Magazine for her continued work and commitment in Sarawak, Malaysia. Read the story