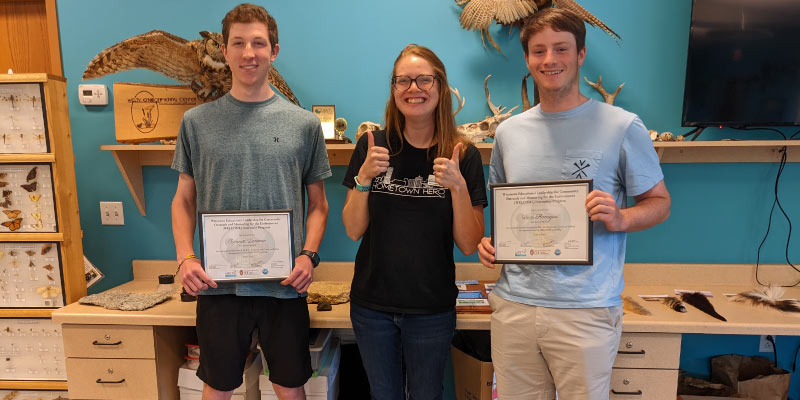 Through the efforts of Nelson Institute Center for Climatic Research's interim director, Michael Notaro, and Wisconsin Educational Leadership for Community Outreach and Mentoring for the Environment (WELCOME), with funding provided by a National Science Foundation (NSF) GEOPAths grant, three Beloit Memorial High School students participated in a one-of-a-kind internship program at the Welty Environment Center (WEC). "The NSF GEOPaths grant is aimed at expanding science, technology, engineering, and math (STEM) opportunities in the diverse Beloit community," Notaro said.
Seniors Bennett Donovan, Liam Flanagan, and Raven Regenold spent their last semester of high school working on various projects related to environmental conservation at the WEC, an environmental educational center located in Beloit, Wisconsin. The center offers hands-on encounters with biological, physical, and chemical elements of nature to both children and adults in order to garner appreciation for environmental, ecological, and related social concerns.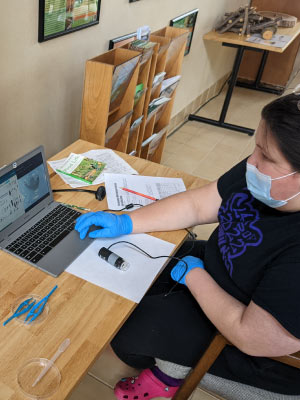 "The NSF funding allowed us to tighten partnerships with our local partners and the school district of Beloit," said WEC program director Aaron Wilson. "Because there is grant money involved, everyone was able to dream big and provide opportunities that otherwise might have been passed over in favor of revenue producing programming."
The funds also helped expand WEC environmental educator Darien Becker's position to full time. Becker worked closely with the interns and guided them through their internships that culminated in research presentations. Additionally, the three interns worked on school programming, curriculum development, land management, citizen science, animal husbandry, and social media during their daily two-hour time slots at the WEC.
"It was a really cool way of incorporating that mentorship aspect by working with high school students who had never done real research before, and then getting them introduced into the scientific method in a more mature setting," Becker said.
The students participated in projects that implemented some of NASA's Global Learning and Observation to Benefit the Environment (GLOBE) protocols and studied the local environment at Big Hill Park. Each intern had unique environmental conservation interests. Donovan compared how elevation influenced soil temperature that ultimately determined types of growth in an area, Flanagan surveyed areas around the WEC to compare the types of soil particles found at different depths, and Regenold studied macroinvertebrate communities found in different nitrate levels across the Rock River Watershed.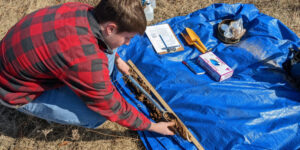 "These kids were out there getting dirty, analyzing in respect to their research question, and getting really good results and deliverable products that they worked hard on throughout the semester," Becker continued.
Learn more about the interns and the WELCOME collaborative.