Finding the best way to provide electricity while minimizing harm to the environment is an important goal for Nelson Institute Board of Visitors (BOV) member, Katherine Gensler. A University of Wisconsin-Madison alumna and current Vice President of Government Affairs and Marketing for renewable energy company Arevon, Gensler has spent the past two decades promoting policies and technologies that further renewable initiatives. As a BOV member, Gensler hopes to help students follow their own passions and turn their academic achievements into successful careers by providing guidance and a framework for transitioning from school to career.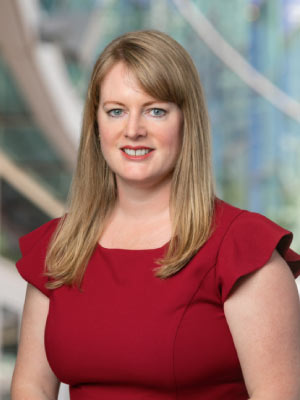 "I've long been a champion for students and for internships. I've had a lot of mentees over the years who I've helped to get real world job placements," Gensler said. "Academia is great and important, but I find it's hard for faculty and staff to bridge out into the private sector, so that's a place I've put effort to try to take what people do in the classroom and help them find ways to apply it to a job setting outside of academia." 
Gensler, who has experience leading strategic engagement, is currently working on a BOV subcommittee that is looking at how Nelson Institute can support students interested in engaging with the private sector. She was also a part of a subcommittee, led by fellow BOV member Carl Korfmacher, that completed a report on what career services the Nelson Institute should be providing to students. Overall, Gensler said she hopes to help the Nelson Institute define the pathway for students who have interest in entering private sector jobs related to the environment. This includes helping students to identify how to make connections, who to make connections with, and how to leverage the work being done at the university with what is being done in the private sector. 
"Nelson has a really strong history and trajectory of connecting with government agencies and the non-profit community, but the third piece of this ecosystem in terms of jobs is the private sector, "Gensler said. "So, when [Nelson Institute Dean] Paul [Robbins] reached out to me to join the Board of Visitors, it was an easy yes, because training the next generation of students who are going to continue the work that I am doing and, far exceed my contributions, is something I want to support." 
As an undergraduate student in political science at UW-Madison, Gensler can recall taking courses through the Nelson Institute, which was known as the Institute for Environmental Studies (IES) at the time. She says she enjoyed those courses as well as an internship at a power plant. Together, these experiences solidified her interest in renewable energy and led her to pursue energy policy. She hopes to contribute to a framework at the Nelson Institute that will support students who are looking for those internship and professional experiences, just like the one she had. She also hopes to share her own professional experiences and do what she can to help students to confidently enter the job market. 
"My career has been entirely in energy policy; first for the federal government and then I worked for the national trade association, and now I work for a solar energy company," Gensler 
said. "All along the way I've been very policy focused and specifically energy policy. Nobody had an energy program when I was in school, so I'm glad to see that UW-Madison is investing in the next important round of careers, training students, and having faculty in that arena. I think that's a really good thing."