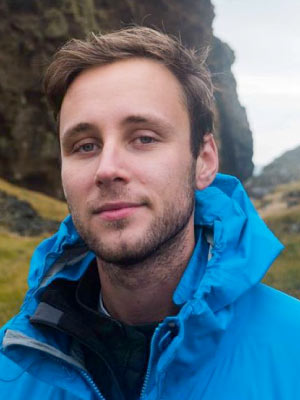 Nelson Institute Environment and Resources (E&R) PhD student Thomas Leffler has been selected as a Planetary Health Campus Ambassador with the Planetary Health Alliance. As an ambassador, Leffler, who has a master's degree in public health and is a graduate research assistant with the Center for Sustainability and the Global Environment, will be a "next generation leader" who will facilitate community collaboration around human health and environmental changes. 
In this new role, Leffler will spend a year developing environmental activities and events that will educate or empower the campus community. He will also attend at least two Public Health Alliance workshops where he will have the opportunity to network and gain new leadership skills. 
"There are a lot of people involved in global health or environmental issues that maybe deal with climate health things or environmental things, but aren't necessarily linking those concepts, so this program helps to do that," Leffler shared. "Hosting events and sharing programming can help us to connect."
Leffler is particularly passionate about connecting planetary health and public health as those are his two academic areas of interest. Before joining the Nelson Institute, Leffler earned a bachelor's degree in global studies at the University of Illinois Urbana-Champaign. He later went on for his Master of Public Health focusing on international development at the University of Sheffield in England. Following graduation, he began a job in the urology department at the UW Carbone Cancer Center where he conducted clinical research for five years before entering a PhD program at UW–Madison. 
"I was inspired by the pandemic, well the origin stories of the pandemic, as there was an environmental component related to the Coronavirus emergence," said Leffler. "I had been working in public health and wanted to add an environmental component to that."
As a PhD student with the Nelson Institute, Leffler is working with Jonathan Patz a Nelson Institute professor, the Tony McMichael Professor, and the John P. Holton Chair of Health and the Environment. Patz is well-known for his leadership on the United Nations Intergovernmental Panel on Climate Change (IPCC), which shared the 2007 Nobel Peace Prize with Al Gore. 
While Leffler hasn't fully decided on his research focus, he plans to consider West African deforestation and its impact on epidemiological data.
"I want to see what associations there are between land deforestation data and public health trends that we can measure on the ground," Leffler said. 
He invites anyone with a shared interest in connecting the environment and human health to reach out to learn more about the Planetary Health Alliance events and programming. Leffler can be contacted at tleffler@wisc.edu 
In addition to the Planetary Health Campus ambassador position, Leffler was also recently selected for the prestigious International Institute for Applied Systems Analysis (IIASA) Young Scientists Summer Program in Austria. Since the inception of IIASA in 1972, UW-Madison students and faculty have been participating in its programing and collaborating with the politically independent Institute, which was originally established to promote scientific cooperation between the East and the West during the Cold War. Leffler, who received a Graduate Student Research Award to fund his participation, will join the ranks of several UW-Madison alumni and faculty who have been invited to IIASA as either a visiting scientist or a Young Scientists Summer Program member, including Nelson Institute Professor, Tracey Holloway.
During the program, Leffler will conduct research on the geospatial dimensions of deforestation and associated infectious disease risk in West Africa with the Population and Just Societies working group at IIASA, that includes demographer Roman Hoffmann. 
"I'm very excited and so grateful to be able to participate in the Young Scientist program – I think it's a great opportunity for me to conduct my research, and also make new connections with international scholars in a whole host of relevant and interesting fields," Leffler said. "I look forward to bringing those experiences back to UW in the fall and being that much more involved with promoting planetary health on campus."