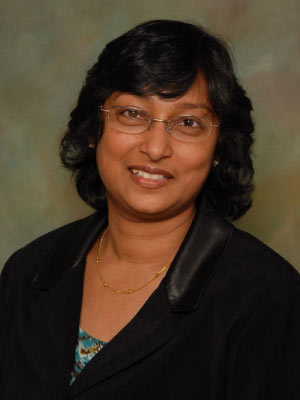 Join Nelson Institute affiliate, executive director of the Human Rights Program, and director of Research Centers at the University of Wisconsin Law School, Sumudu Anopama Atapattu on May 18 at 11 a.m. CDT for the virtual launch of The Cambridge Handbook on Environmental Justice and Sustainable Development. During the event, the three editors will be in conversation about the book with moderator, Erin Daly.
This new handbook edited by Atapattu, Carmen Gonzalez, and Sara Seck, highlights the role of human rights and environmental justice in sustainable development. Using legal frameworks and case studies, the handbook explores solutions that protect the planet while promoting environmental justice.
"We decided to do the book through case studies from around the world to highlight that environmental justice struggles are intertwined with struggles for other forms of justice and that a holistic approach is needed," Atapattu said. "One of the editors of this book, Professor Carmen Gonzalez, and I were involved in a previous edited volume (International Environmental Law and the Global South) and we realized that there is hardly any literature on the social dimension of sustainable development which overlaps with human rights. So, we started chatting and decided to do a book on it. We invited Sara Seck who had contributed a chapter to the previous edited volume to join us as an editor and she agreed."
For Atapattu, focusing the book on the social dimensions of sustainability was a good fit as her research centers on the intersection between environmental issues and human rights, especially the human rights impact of climate change. In addition to her research, she currently teaches a seminar course on climate change and human rights at the Law School while serving as the executive director for the campus-wide Human Rights Program.
"Sustainability encompasses the balancing of three dimensions – economic development, environmental protection and social development. While most existing literature focuses on balancing economic development with environmental protection, less attention has been paid to social development," Atapattu said of their decision to focus the book on the social development aspect of sustainability. "Social development is often expressed in human rights language which overlaps with environmental justice. In other words, human rights framework is essential for both environmental justice struggles and social development but these linkages are rarely highlighted. Through a set of case studies from around the world and utilizing different frameworks, the book highlights these linkages."
Overall, Atapattu said that the goal of the book is to address areas of sustainability that are deeply important, but often underrepresented in discussions about environmental solutions. For example, the book addresses the root causes of environmental injustices, which Atapattu says must be discussed if injustices are to be rectified. She also hopes the book will show how communities engaged in these struggles can learn strategies for success from one another and the ways the human rights framework has given a voice to marginalized communities.
"Those who are already marginalized or in a vulnerable situation are more likely to be disproportionately affected by environmental degradation and pollution," Atapattu said. "And, these vulnerabilities intersect with one another to form even greater vulnerabilities."