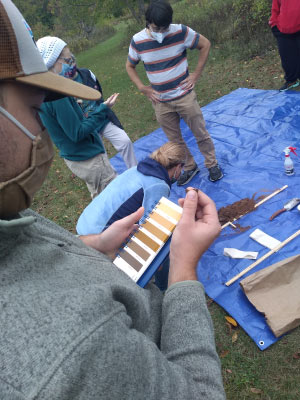 Nearly 20 educational leaders from the  School District of Beloit, Beloit College, and Welty Environmental Center attended a development workshop led by Nelson Institute Center for Climatic Research (CCR) associate director, Michael Notaro and CCR outreach director, Rose Pertzborn that aims to increase diversity in geosciences and foster hands-on STEM (Science, Technology, Engineering, and Math) education within Wisconsin communities.
The workshop, held on October 12-14 in Beloit, Wisconsin, was the first in a series of workshops associated with the National Science Foundation (NSF) GEOPAths-funded project entitled, Wisconsin Educational Leadership for Community Outreach and Mentoring for the Environment (WELCOME). This project brings together educational and environmental leaders throughout Beloit with faculty/staff from the University of Wisconsin-Madison Nelson Institute who offer trainings, mentorships, hands-on experiences, and more, to increase student interest in STEM, improve achievement gaps, and increase diversity within STEM degrees and careers.
This initial training focused on youth citizen science data collection and analysis as it relates to the atmosphere, hydrosphere, pedosphere, and biosphere protocols of the Global Learning and Observations to Benefit the Environment (GLOBE) international program.
"The workshop brought members of the School District of Beloit, Beloit College, University of Wisconsin-Madison, and Welty Environmental Center to the table to tackle the vast STEM diversity and equity challenges in Beloit," Notaro said. "We are making a stand that all children, no matter their race, ethnicity, gender, disability status, or economic status, are valuable, loved, and deserving of the opportunity to succeed.  The fact is that the fields of geoscience has experienced no increase in diversity over the last several decades, and this is unacceptable."
Notaro also shared that the WELCOME program plans to offer in-school presentations and question and answer panels with scientists from different stages in their career over the next few months. The schools will engage in student-led data collection and development of locally relevant scientific projects for presentation at the upcoming Midwest GLOBE Student Research Symposium.
Additionally, the WELCOME project is working with Achieving Collaborative Treatment to find ways to address the needs of the autistic youth.
Notaro shared, "We will be developing a summer STEM camp for autistic youth, creating a safe environment that fosters and welcomes their neurodivergence."