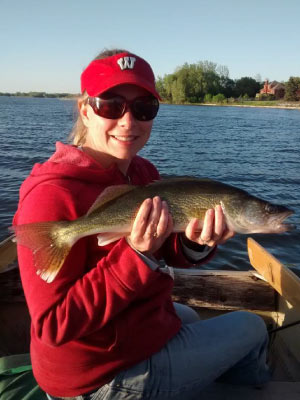 The walleye have returned and the shores of Green Bay, Wis. are cleaner, thanks in part to the work of Nelson Institute alumna, Julia Noordyk. As the water quality and coastal communities specialist for the University of Wisconsin Sea Grant Institute in Green Bay, Noordyk leads a variety of projects aimed at improving water quality and coastal resilience.
Noordyk's interest in the environment began when she was a child. And, while there wasn't an exact moment where she knew she would work on water quality, she can trace her general interest back to the third grade.
"I've always really cared about environmental issues, but I think it started with a third grade project to raise money to save the whales through recycling newspaper," Noordyk said. "Like many kids, I loved animals and I also watched a lot of documentaries. I thought I wanted to be a veterinarian, but later discovered that conservation is where I wanted to be."
In college, Noordyk followed her passion for the environment, attending Colorado State University and doing conservation fieldwork in places such as Tanzania. In fact, it was while she was in Tanzania that she learned about the Nelson Institute.
"I was studying abroad in Tanzania and the faculty person who was leading our group mentioned that the University of Wisconsin-Madison had a good environmental studies program," Noordyk said. "Several years passed and when I decided to go back to school, I looked it up. I started making connections and I visited the campus. I was fortunate enough to meet my advisor Nancy Matthews on that trip."
Once accepted to the Nelson Institute Conservation Biology and Sustainable Development (CBSD) program, Noordyk decided to participate in a graduate exchange program in the south of France.
"I loved it so much I decided to go back to do my thesis there. I developed a social-ecological model of the Camargue Delta wetlands," Noordyk said. "I came to understand that conservation is really all about people. If we want to work on these issues, we have to understand where people are coming from. I thought the Nelson Institute was a great program for this because of the interdisciplinary nature of it and getting those people-oriented skills."
After graduating from the Nelson Institute, Noordyk was accepted to a National Oceanic Atmospheric Administration (NOAA) coastal management fellowship. The two-year program matches NOAA fellows with state coastal management programs.
"It was an amazing experience," Noordyk said. "I got matched with the Maine coastal program and worked on off-shore wind energy and nonpoint source pollution. But, my biggest project was building the Maine coastal public access guide, which was no small feat given the state has over 5,300 miles of coastline."
After completing the fellowship, Noordyk and her family were looking to return to Wisconsin. Fortunately, a position with Sea Grant was posted and Noordyk found it was a natural move to join the organization, which conducts "basic and applied research, education, and outreach and technology transfer" and is "dedicated to the stewardship and sustainable use of the nation's Great Lakes and ocean resources."
Through her role as the water quality and coastal communities specialist, Noordyk works with communities along Lakes Superior and Michigan on water quality and coastal resilience. She is the program manager for the Wisconsin Clean Marina program, a statewide certification program where marinas adopt best management processes to reduce water pollution. She is also involved in the Clean Bay Backers, an citizen-based group that has aided in the clean-up of the lower Fox River and the Green Bay Sustainability Commission, which just passed a water resolution for the city.
Additionally, Noordyk is involved with the East River Flood Resilience planning.
"We have a really big project happening right now," Noordyk said. "It brings together the municipalities and the county in this watershed to addressflooding and water quality issues. Historically, the river has been treated more like a trash dump than a resource,  there are even stories of folks putting perfume along the river to dampen the smells, so we are working with the communities on a resilience plan that uses nature- based solutions. Things like green stormwater infrastructure, floodplain restoration, and agricultural wetland treatment systems."
Noordyk is also working with municipalities across the area, and throughout the United States on green infrastructure, having developed a local ordinance workbook, which is a tool that can help municipalities to identify barriers to implementing green infrastructure.
She is also currently collaborating with the University of Wisconsin-Green Bay Center for Biodiversity and the First Nations studies program on a initiative that will put a focus on the ancestral homelands and the ecological knowledge held by the Ho-Chunk, Potawatomi,  and Menominee nations.
While Noordyk is involved in a variety of projects, all of her outreach has the community at its heart. In fact, her focus on building relationships is something she attributes to her time at the Nelson Institute.
"The most valuable things that I took with me from my time at the Nelson Institute were professional skills—how to be adaptable and collaborate with people from various perspectives," Noordyk said. "Conservation work is all about building relationships and trust and you can't do that without being flexible and listening. The Nelson Institute gave me the chance to learn about these skills and develop them through my thesis project. There's no doubt in my mind that this has helped me be successful."
We invite you to learn more and support our current graduate degrees including the Environment and Resources and the Water Resources Management programs.