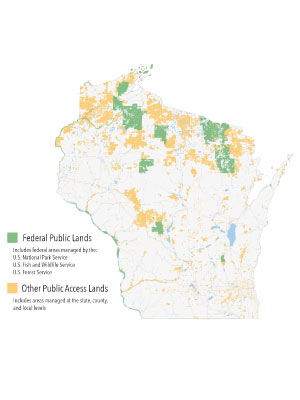 The Nelson Institute Issue Brief is a quarterly publication that summarizes and conveys up-to-date scholarship from across the UW–Madison campus on key issues of environmental concern. The latest edition focuses on managing public lands for conservation. 
The state of Wisconsin boasts more than six million acres of public lands, which provide essential wildlife habitats, protect ecosystem diversity, regulate weather and climate — and connect people to nature through tourism and recreation. However, public land ownership can put strains on funding and alter the makeup of surrounding communities. These pros and cons of public land usage lead to questions about the quantity, maintenance, and acquisition of public lands.
In this edition of the Nelson Issue Brief, learn about the importance of local participation in conservation, how to navigate transfer of conservation easements, the economic benefits of using public lands for recreation, and the environmental benefits of managed grazing.
Featured in this issue:
Programs to Conserve Protected Public Lands Depend on Local Leadership and Participation

:

Teri Allendorf and Nelson Institute affiliate Bret Shaw

Permanent Conservation Easements, Changing Landowners

: Adena Rissman, Alex Kazer, Catie DeMets, and Nelson Institute MS student Emilee Martell

Economic Impacts of Outdoor Recreation on Public Lands and Waters in the Lake States

: Dave Marcouiller

Managed Grazing to Enhance Wisconsin's Public Grasslands

: Nelson Institute affiliate Randall D. Jackson and Greta Landis
Read the full Issue Brief or browse past editions.