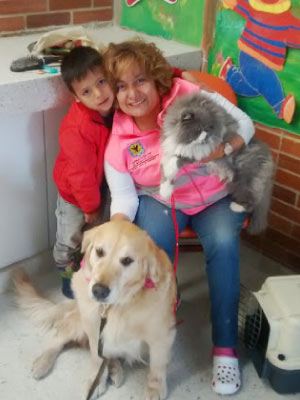 From her career as a veterinarian specializing in animal behavior to the development of the Public Policy of Animal Welfare and the direction of a government entity to protect animals in Bogotá, Liliana Rodríguez has remained busy in her country of origin, Colombia. Wanting to expand more on her English skills and conservation knowledge, Rodríguez set out for Madison, Wis. where she enrolled in the Environmental Conservation MS program at the Nelson Institute for Environmental Studies. "It was an incredible experience for me," said Rodriguez. 
However, Rodríguez's story does not begin with her current interest in animal welfare and environmental conservation. As a child, Rodríguez had hopes of competing in Olympic gymnastics until at the age of 16 she suffered an accident that left her in a wheelchair for five years. After more than 20 orthopedic surgeries, she is now permanently on crutches. As Rodríguez could no longer compete, she instead focused on becoming a veterinarian and working for animals. 
Wanting to expand into animal rights and welfare, Rodríguez started working for a non-governmental organization doing projects for animals in the communities of Bogotá. There, she went on to work for the government for over five years and helped start the Animal Welfare Institute that is part of the Secretary of the Environment in Bogotá. Rodríguez decided to stop working with the government for her safety. "It was a very difficult decision for me," she said. "But it was the reason I had to start over." 
Her new beginning in Madison included obtaining her master's degree in Environmental Conservation (EC). This fifteen-month program allows students to learn about the most pressing environmental issues of today along with practical interdisciplinary skillsets that aid in the many careers of conservation. Featuring both in-person and online courses, the Environmental Conservation MS also has students complete a three-month professional leadership experience with the goal of taking what students learned and applying it to real world situations. 
Rodríguez admits she had some hesitations before beginning the program. "I never thought I could have the opportunity to study at the [Nelson Institute] at my age with my conditions because I know I don't have enough practice with the English [language]." 
Her hesitancies quickly diminished as she realized the amount of support her instructors were willing to give her. "They helped me a lot," said Rodríguez. "They believed in me and that's why they always pushed and encouraged me to continue even when everything was against me. I had help from above that was bigger than anything." 
Against the odds, Rodríguez began her master's degree in Madison. But with only a short time into the program, the COVID-19 pandemic hit, and Rodríguez made the difficult decision to travel back to Colombia and finish her degree online. "It was frustrating for me to study online because my dream, like that of every Latino student, is to be able to live the experience of studying and immersing myself in a university city like Madison." 
Rodríguez says that it all worked out in the long run as the support of one of her instructors really shown through. "Geo-Spatial Information was an incredible class though every week was challenging for me," said Rodriguez. "I thought, 'I cannot do that, my computer is so old, I do not understand English very well, and I am an older woman.' Every bad thought was in my mind, but I had an amazing teacher. She was there for me in every moment, in every second. She taught me to be patient, to believe that I could do it, even to love technology." 
Not only did Rodríguez have help from her teachers, but she also reached out to the Latin American, Caribbean and Iberian Studies Program (LACIS) for additional assistance. "I also had financial help and professional guidance from [caring] teachers like Alberto Vargas from LACIS," said Rodríguez. "Without their help I really could not have finished because I did not have the money or the possibility to study at a time when Colombia is in total crisis. I only had to ask for help when I was about to quit, and they immediately recognized my effort and rushed to help me." 
Rodríguez, who is set to graduate in August, is currently completing her final project where she will travel to Leticia, the capital of the Colombian Amazon, to observe the relationship between animals and humans in a remote city. "I am going to travel with my mind completely open, to only observe, because I know the problems are completely different," said Rodríguez. "My greatest desire is to find a link between animal welfare and environmental conservation. I hope to help my country now that I have many more tools." 
Rodríguez hopes her story will inspire others who face similar challenges to achieve their dreams. "The master's program was a second opportunity at life for me." 
Learn more about the Environmental Conservation MS and how you can support the program.