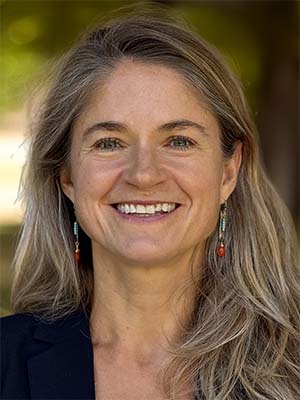 Nelson Institute Center for Sustainability and the Global Environment (SAGE) associate professor of Geography, Holly Gibbs  is one of thirty-two members of the University of Wisconsin-Madison faculty to receive a fellowship for the 2020-21 academic year.
Gibbs has been awarded the H.I. Romnes Faculty Fellowship, funded by the Wisconsin Alumni Research Foundation (WARF), a non-profit organization promoting scientific research at UW – Madison.
This fellowship recognizes the leadership of Wisconsin Alumni Research Foundation (WARF) Trustee President H.I. Romnes and supports selected faculty up to six years past their first promotion to a tenured position. The research award may be used over a period of five years.
Gibbs was nominated for the fellowship by her colleagues in both the Nelson Institute and the Department of Geography. The application process included up to five letters of recommendation from her colleagues and three sample publications of Gibbs' work.
"I was extremely honored to be selected by my colleagues. I take risks in my scholarship as I try to link my academic research to decisions made by policymakers and companies in the US , Brazil, and beyond, and this fellowship affirms my pathway to conduct applied interdisciplinary research," Gibbs said.
Gibbs studies how humans interact with land around the world, with emphasis on climate change, forest conservation, and food security. She oversees the Gibbs Land Use and Environment Lab (GLUE), which focuses on creating partnerships with non-governmental organizations on policy change and informing the public through media outlets.
Over the past decade, Gibbs has been researching deforestation in the Brazilian Amazon, with a focus on understanding the impacts of public policy and company action. Gibbs and her lab create technological solutions for the Brazilian government and various companies relating to conservation efforts in the area.
Recently, she has developed tools for supply chain traceability and the monitoring of deforestation that are currently being tested and used by the world's largest meatpacking companies. These companies have a significant impact on the environment because the creation and expansion of cattle pastures has become one of the largest causes of deforestation in the Amazon rainforest.
"With our tools, and renewed commitment by meatpacking companies, I believe we have a chance to reduce deforestation in the Amazon," Gibbs said.
"The Romnes Award Fellowship solidifies my commitment to engaged scholarship and empowers me to continue taking chances when I see unique spaces where my research team can contribute to making durable change on the ground."
Additionally, for the Spring 2021 semester Gibbs had the opportunity to teach Geography 309: People, Land and Food,where she was awarded a grant to expand student-to-student engagement and support food sustainability projects. The course helps students understand the societal use of land as a means of food production and its profound impact on the environment. Gibbs encouraged her students to find solutions to real-world problems related to land and food production strategies.
"I have never been more impressed by my students and their project outcomes," she explained.
Student projects included a map of ancestral lands for the Waunakee School District and working with a local nursing home to develop a recipe book related to memories surrounding food. Learn more about Gibbs, her work, and recent publications.