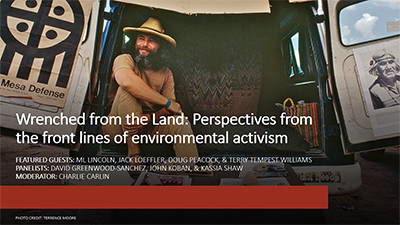 Hosted by the Center for Culture, History, and Environment (CHE) on December 9, 2020, this event is a panel discussion inspired by award-winning photographer and filmmaker ML Lincoln's book, Wrenched from the Land: Activists Inspired by Edward Abbey.
Through conversation with ML Lincoln as well as several of America's most iconic environmental activists, Terry Tempest Williams, Doug Peacock, and Jack Loeffler, we explore what motivates and sustains environmental activism.
This event is moderated by University of Wisconsin-Madison and CHE alumnus Charlie Carlin, and features a panel of CHE graduate students: Kassia Shaw, John Koban, and David Greenwood-Sanchez.