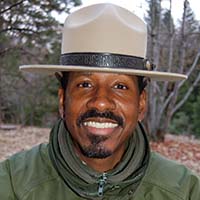 Rebuilding Yesterday: The Power of Untold Stories, a Conversation with Shelton Johnson
View a conversation with Yosemite National Park Ranger Shelton Johnson, who joined us on October 14, 2021, to discuss the stories we tell and how those stories are critical to better diversity, equity, and inclusion in our national parks.
Johnson was joined by moderator and Nelson Institute Community Partnership Liaison James Edward Mills. Together, they led an exploration of the ways in which untold stories challenge perceptions of history and how that reconfigures our vision of the present.
Speakers
Shelton Johnson
Park Ranger, Yosemite National Park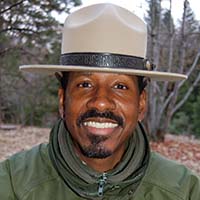 Johnson was born in Detroit, Michigan in 1958, the son of a seamstress and a soldier. His maternal and paternal grandparents were Black Indians from Oklahoma Territory and South Carolina respectively. He had one older brother and they all lived together with his maternal grandparents in Motown. Due to his dad's military career Johnson also lived for three years in England and later Germany where the Bavarian Alps first awakened his sense of wonder.
Johnson attended Detroit's Cass Technical High School in 1976 and graduated with a diploma in Classical Music. By 1977 he was a college student at Wayne State University in Detroit, eventually transferring to the University of Michigan where he received a BA in English Literature in 1981 and won a Major Hopwood Award in poetry.
After college, Johnson briefly served in the U.S. Peace Corps in Liberia, West Africa teaching 7th grade English before returning to the United States to attend the MFA Program in Creative Writing (poetry) at the University of Michigan. After a year as a graduate student in this program he spent the following summer working for a concessionaire in Yellowstone National Park.
The summer of 1984 sparked his eventual career with the National Park Service and by 1987 he was a National Park Services Ranger at the West Entrance to Yellowstone National Park.
After five years in Yellowstone, Johnson worked at several parks including Washington, D.C., Great Basin National Park, and finally Yosemite National Park where he was introduced to the park's African American history, including the relatively unknown legacy of the Black troops who served in both Yosemite and Sequoia National Parks.
For the past 25 years Johnson has worked on connecting African Americans, and other people of color, to the National Parks, using history as a tool for social change. Black people are the one ethnic group in the U.S. least likely to visit a National Park and changing that fact has become the foundation for Johnson's passion to forge a bridge between the African American community and America's Best Idea.
That work has received media coverage in publications ranging from the New York Times to Ken Burns and Dayton Duncan's PBS documentary film, "The National Parks, America's Best Idea" in 2009, and "The Oprah Winfrey Show" in 2010.
James Edward Mills (moderator)
Community Partnership Liaison, Nelson Institute for Environmental Studies; Founder, The Joy Trip Project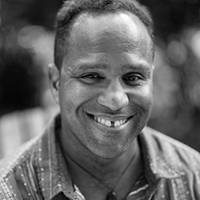 James Edward Mills is a 2014 fellow of the Mountain & Wilderness Writing Program of the Banff Centre in Alberta, Canada, and the 2016 recipient of the Paul K. Petzoldt Award For Environmental Education. As a freelance journalist and an independent media producer in a career that spans more than 20 years, he specializes in sharing stories about outdoor recreation, environmental conservation, acts of charitable giving, and practices of sustainable living.
He has worked in the outdoor industry since 1989 as a guide, outfitter, independent sales representative, writer, and photographer. He is the author of the book, "The Adventure Gap: Changing the Face of the Outdoors," and the co-writer/co-producer of the documentary film, "An American Ascent."
Mills is a contributor to several outdoor-focused print and online publications such as National Geographic Adventure, Rock & Ice, Alpinist, SUP, Elevation Outdoors, Women's Adventure, the Clymb, Park Advocate, High Country News, Appalachia Journal, The Guardian, Outside Magazine, and Land & People.
With skills in audio storytelling, Mills' radio production credits include Wisconsin Public Radio, the Public Radio Exchange, American Public Media's Marketplace, and the Public Radio International programs "To The Best of Our Knowledge" and "The Tavis Smiley Show."
In recognition for his work in sharing the important history and legacy of the Buffalo Soldiers and their efforts at the dawn of the National Park Service, James was named a Yosemite National Park Centennial Ambassador in 2016.
In 2020, Mills' book, "The Adventure Gap," was named by Outside Magazine as one of the 10 "Outdoor Books that Shaped the Last Decade."
Currently a faculty assistant at the University of Wisconsin-Madison's Nelson Institute for Environmental Studies, James teaches a summer course for undergraduate students on diversity, equity, and inclusion in outdoor recreation and public land management called Outdoors For All.
Help Support this Event
We invite you to consider making a gift in support of this event and in honor of Bud Jordahl, who helped establish the Apostle Islands National Lakeshore, the Namekagon–St Croix National Wild and Scenic Riverway, the Knowles-Nelson Stewardship Fund, and many other public conservation treasures. He made a difference and so can you.
Gifts in any amount are needed and appreciated! 
Presented in Partnership with: