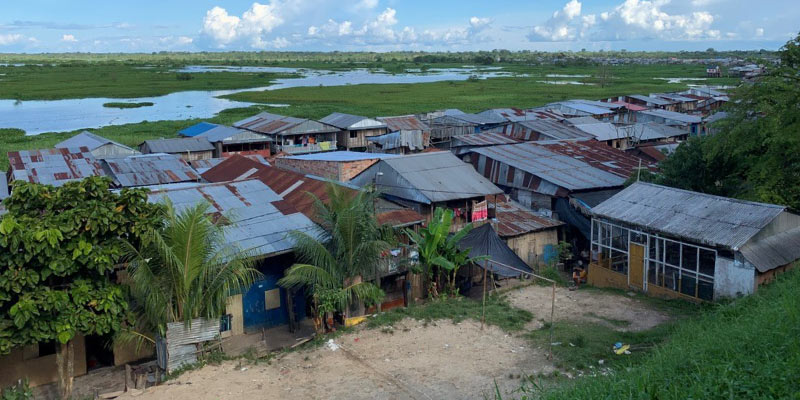 A new report showcases how community perceptions of risk and social vulnerability shape responses to the threat of natural disasters. Led by Nelson Institute doctoral candidate Hugh Roland, the report entitled, Stakeholders' Perspectives on Flood Risk and Vulnerability in Peru, investigates these community vulnerability perceptions as they relate to flood risk in Peru.
The report was published as a part of a UW2020 project. The UW2020 program was developed "to stimulate and support highly innovative and groundbreaking research at the University of Wisconsin–Madison" and is supported by the Wisconsin Alumni Research Foundation (WARF). This particular project is being led by Roland who is focusing his doctoral work on environment-related vulnerability and migration in Peru, Kiribati, and the Marshall Islands. He became involved in this UW2020 project through his interest in health vulnerability and how that relates to environmental shifts. The project is also being supported by co-authors:
Together, Roland and his co-authors partnered with the Red Cross Climate Center to conduct a survey of disaster management,  public health,  climate science,  engineering, forestry, and  academic leaders in Peru to learn more about the perceptions surrounding natural disasters. These survey results were then used to create the report and inform a greater understanding of how Peruvian stakeholders view flood impacts and vulnerability as well as how these perceptions shape disaster response and the implementation of early warning tools.
Although Roland notes that the findings in this particular report shouldn't be generalized too widely, he hopes that disaster preparedness and response professionals in other parts of the world might consider whether the responses and dynamics observed raise relevant issues for their work, particularly related to power differentials between regions and between organizations and communities. He is also continuing to work on ways to expand the report while sharing his current findings.
"This UW 2020 project has produced numerous publications, including several still in the works," Roland said. "I am currently preparing a paper with several other team members, as well as one of our community partners, that integrates responses from this survey into a spatial analysis of vulnerability in Peru, investigating the relationship between geographic isolation and flood-related social vulnerability across Peru's ecoregions. My goal in this paper is to emphasize the close relationship between risk and social problems, particularly spatial distributions of vulnerability linked to legacies of colonialism and extractive racial capitalism."