Nelson Institute Environmental Conservation graduate student, Chelsey Willetts, is one of just six students from the United States invited to attend the Student Workshop on International Coastal and Marine Management (SWIMM) this January in the Gulf of Mexico. A week-long workshop, SWIMM will allow for networking and peer-to-peer engagement as participants work together to identify indicators for a "Report Card for Coastal Campeche" in Mexico. According to the SWIMM program, which is administered by the Texas A&M University Corpus Christi Harte Research Institute for Gulf of Mexico Studies, the report card will help to "assess the health of environmental and socio-economic systems along the coast and to monitor positive and negative changes over time."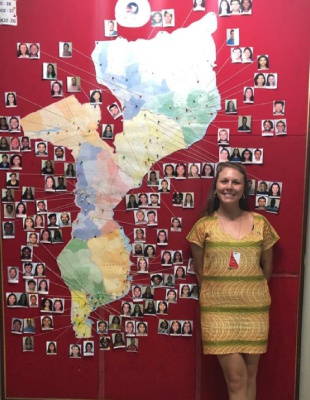 For Willetts, this program offers her the perfect opportunity to merge her background in Spanish and Portuguese with her growing interest in marine and coastal management. A graduate of North Carolina State University with a degree in political science and history, Willetts became interested in conservation after working at as a volunteer and outreach coordinator at a local food bank. During her time with the food bank, she became interested in agricultural practices and food waste, and how these were related to conservation. Around this time, she also learned about opportunities with the Peace Corps and ultimately decided to pursue her interest in conservation through a project with the Peace Corps in Mozambique.
"I actually joined the Peace Corps in May 2016, and I served under the health sector which is an umbrella for a lot of different sectors including agriculture, community and economic development, and education," said Willetts. "Mostly, I did community outreach work related to environmental conservation and health awareness. I was trained to teach community members about different topics such as HIV, malaria, and nutrition. As I had an interest in insects and conservation I ultimately decided to focus my project on malaria awareness."
During her time in Africa, Willetts received training on arthropod and invertebrate conservation and worked with Gorongosa National Park doing a biodiversity study, but she also had the opportunity to receive her scuba certification. It was these experiences that inspired her interest in coastal and marine management and ultimately led her to apply to the Nelson Institute Environmental Conservation (EC) professional Master's program.
"When I was coming up on the end of my term with the Peace Corps I was looking into graduate schools and I knew I wanted to do something conservation related," said Willetts. "I came across the EC program and after talking to [Environmental Conservation Program Coordinator] Meghan Kautzer, I found out this program was more professional based rather than research, which definitely drew me to it. So, after talking to Meghan while I was in Mozambique it seemed like a good fit and I applied."
A 15-month program designed to train conservation leaders in practical interdisciplinary skills, the EC program features in-person and online courses as well as a three-month professional leadership experience. The program introduces professionals to a wide range of curricula, including conservation planning, land use policy, applied GIS, and strategic communications. Students also engage in a three-month internship, allowing them to receive hands-on experience addressing some of the most urgent challenges in conservation and environmental protection.
"One reason I love our program is that we welcome students from all backgrounds, all levels of experience, and all interest areas," said Kautzer. "Students seek out our programs because they want to take action and solve problems. Chelsey came to the EC program without formal training in ecology or environmental studies, but we knew she would be a future leader in conservation after our holistic application review. Chelsey further developed a passion for the natural world during her time in Peace Corps, motivating her to explore a Master of Science degree that she could excel in. Our programs offer one-on-one support that guides students to find where they fit in and have the most impact."
For Willetts, this guidance has helped her to expand her interests in coastal and marine management. In fact, during the fall semester, Kautzer helped Willetts to become connected with the UW-Madison Sea Grant program. Willetts is now working with the Wisconsin Sea Grant program to design an erosion control project in the Kenosha Dunes area. Kautzer also alerted Willetts to the SWIMM program and wrote a letter of recommendation.
"It was kind of ironic because I recently took a trip to Mexico and while scuba diving there I noticed the algae blooms (sargassam) growing and how that was impacting the local community and tourism industries," said Willetts. "After I came back, I had an email from Meghan about the SWIMM workshop and this opportunity in Mexico. I was excited because I was just there and I was just talking with the local communities about this kind of stuff. "
Kautzer added, "We are so happy for Chelsey earning this spot in the SWIMM workshop. Many of my students have shared they love that the EC program is both structured but also flexible. Students get in and out of a complete Master's degree in four semesters but can go deeper where they're most interested. This SWIMM workshop is an example of how students can take advantage of learning opportunities alongside our program, but students can also specialize through course selections in the fall and through their unique final project experience."
While Willetts plans for her final project are still in the works, she is hopeful that something may come out of the SWIMM workshop. If not, she says she is also interested in working with Rare, a program that takes a community behavioral approach to conservation.
"Rare works with local communities rather than larger governments," said Willetts. "I am hoping to work with their Fish Forever program which has projects in Mozambique, Brazil, and the Caribbean, so it would be a great fit."
In the meantime, Willetts is preparing for the next steps and continuing her work with the EC program, an experience she says has exposed her to the kind of new ideas and diversity that are needed to solve today's conservation challenges.
"It's been the diversity of people we work with, both professors and internally in our cohort that have made the real difference," said Willetts. "We have students from all over the world, they have different perspectives and environmental problems where they live and it's interesting to hear their experiences and how their countries are dealing with it. The program is also flexible and allows for travel, which is something I really appreciate."