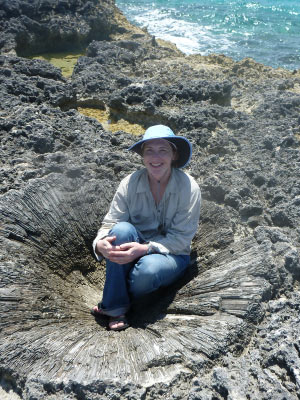 Nelson Institute affiliate and Department of Geoscience Professor Andrea Dutton recently participated in a White House Office of Science and Technology Policy roundtable on climate action. The virtual event, "White House Climate Science Roundtable on Countering "Delayism" and Communicating the Urgency of Climate Action," brought together experts from a variety of fields to discuss why arguments to delay climate action gain ground and how to better counter such arguments. 
Dutton, who studies climate and sea-level change using carbonate sedimentology and isotope geochemistry, was invited to share her expertise as a part of the panel. She highlighted her research program, which focuses on understanding the rates, magnitudes, sources, and drivers of past sea-level change to facilitate improved understanding of the climate system and of projections for the future.

"The goal of this roundtable was for high level White House staff to learn from scientists and other experts to share a scientific understanding of why arguments for delaying action are appealing, what impacts that delay would have, and how to counter these arguments effectively," Dutton shared. "Many of those who attended have an extensive portfolio of public outreach and communication on climate change."
Dutton brought many years of research and teaching experience to the panel. While much of her career has been in higher education, she shared that it was her role as a science teacher for third through twelfth graders in New York that helped her to effectively communicate about climate change. 
"My time spent teaching at St. Ann's was critical to the development of my public speaking skills and learning how to effectively pitch content at different levels," Dutton said. "I think this has really helped me to be an effective communicator on issues related to climate change with public audiences."
Today, Dutton continues to teach several large, introductory level courses at the University of Wisconsin-Madison, including introductory to geology and oceanography. She is also overseeing construction of a new lab where she will perform radiometric dating of carbonates such as fossil corals and cave formations to help reconstruct past changes in sea level and climate. Additionally, she is continuing her fieldwork which she says is one of the most exciting parts of her career. 
"One of my favorite field sites is in the Seychelles, where we found some small, but extremely revealing outcrops of fossil reefs that produced an extraordinary amount of information about past sea level rise in the region," Dutton said. "Some of the observations we made at this site led to the upwards revision of our estimates of how high sea level rose during the most recent past warm period and have had a big impact on subsequent research on this topic."