John Nelson carries fond memories of growing up at his family cottage on Green Lake.
"It was an ecological jewel," says Nelson, an emeritus member of the Nelson Institute Board of Visitors and adjunct professor of civil and environmental engineering at UW-Madison. "You could drop a net along the pier and catch enough minnows to fill a bucket. You could take them in the rowboat and fish the 60-foot drop-off in front of our house – which you could see because the lake was so clear. You could catch dinner and row back in, all within an hour."
Nelson's parents and grandfather built the cottage on the central Wisconsin lake in the mid-1950s. John grew up swimming, snorkeling, skiing and paddling in the crystal-clear waters, skating and ice fishing during the winters.
"My friends would stand on the pier astonished by the water clarity," he recalls. "You could always find a calm spot to ski and see the bottom as you skimmed the surface. Everybody wanted to come to our lake house."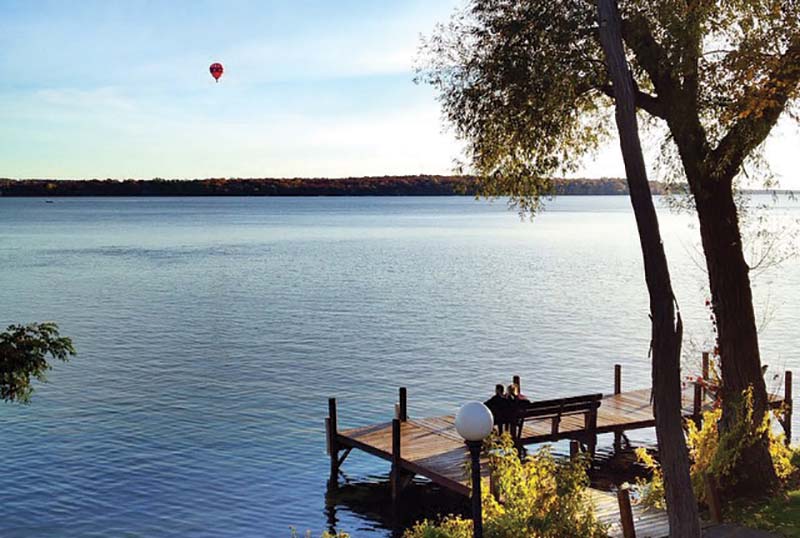 But those days, and those idyllic conditions, are in the past. Green Lake has degraded, facing the kinds of challenges common to waters in agricultural and developing landscapes, including excess aquatic plant growth, algae blooms and a loss of water quality and clarity.
"The changes are almost unimaginable," says Nelson.
The Wisconsin Department of Natural Resources designated the lake as "impaired" in 2014 because it fails to meet water quality standards due to low levels of dissolved oxygen at certain depths within the lake.
Nelson has been looking for answers, and he's convinced that the scientific expertise found at UW-Madison can help. He has argued that the lake, about 30 miles southwest of Oshkosh, provides an ideal opportunity for community engagement and interdisciplinary study – two priority areas for the Nelson Institute. Nelson, the Green Lake Association and others in the community have sought the institute's help to investigate the complex web of issues underlying the lake's challenges.
A Landscape Full of Farms
By any measure, Green Lake is unique. Set among sandstone bluffs and steep topography, it's the deepest natural inland lake in Wisconsin, reaching 237 feet at its deepest point. It provides rare and valuable habitat for lake trout and other coldwater species, and its scenic beauty draws people from around the country.
Its watershed, in the heart of Wisconsin's agricultural belt, is dominated by farming. Nearly 60 percent of the watershed which spans Green Lake and Fond du Lac counties, is devoted to agriculture; home to dairy farms, canning crops, concentrated animal feeding operations (CAFOs) – all critical components of the area's economy.
"If you think of south-central to east-central Wisconsin, that's our most concentrated area of agriculture in the state," says Chris Kucharik, a UW-Madison professor of agronomy and environmental studies and an affiliate of the Nelson Institute Center for Sustainability and the Global Environment.
Dairy farms produce a significant amount of manure – a natural fertilizer containing critical nutrients such as phosphorus that farmers spread on their fields.
During heavy rainfall events, fields can erode and wash phosphorus into streams that feed into the lake, providing a nutrient overload that fuels excess plant and algae growth and degrades water quality.
These problems have prompted a major local effort to address the causes. The Green Lake Sanitary District (GLSD), in collaboration with the Green Lake Association, the Green Lake Conservancy, Green Lake and Fond du Lac counties, the Wisconsin Department of Natural Resources and other partners, developed a new, comprehensive lake management plan in 2011.
"Prior to 2011, we had been involved in actively implementing a number of lake protection protection and improvement activities, but our lake management plan was largely an informal working relationship between the DNR and our local lake organizations," says GLSD administrator Charlie Marks.
Still, the efforts were intense and wide-ranging, costing millions of dollars over three decades. They included comprehensive monitoring by the U.S. Geological Survey; an agricultural best-management practices program led by GLSD and the county throughout the watershed; extending sewer service to 1,000 homes around Green Lake; aquatic weed management; fish stocking and carp removal; shoreline restoration; public education and much more.
The new management plan redoubles those efforts, and Marks believes it's making a difference, particularly in reducing the agricultural phosphorus pollution.
"Phosphorus reduction is a very big challenge for our lake," says Marks, "but we're making significant strides, and I believe we will continue to see incremental improvements in this area if we can continue with our current strategies and solutions. I believe this is a winnable battle."
Marks worries most about uncontrollable factors such as invasive species and climate change, and Stephanie Prellwitz, executive director of the Green Lake Association, shares those concerns, noting that the area has already seen an increase in heavy rains.
"Wisconsin's changing climate is projected to bring increasingly severe weather, including warmer temperatures, more precipitation falling as rain rather than snow, and an increase in the size and frequency of rain events," says Prellwitz. "These conditions will likely result in further increases in sediment and nutrient loading and, ultimately, increased eutrophication of the region's freshwater systems."
Altering an Ecosystem
Increasing amounts of phosphorus, sediment and algae can alter the ecology of a lake and deplete dissolved oxygen in the water. Kucharik explains that once the oxygen levels fall below a certain point, many native species die out.
Because of Green Lake's depth, it can support a variety of aquatic life that most Midwest lakes cannot. Deep enough to stratify into cold and warm layers, Green Lake supports lake trout and many other coldwater fish and invertebrates. Changes in lake temperature and oxygen may cause these species to disappear.
Phosphorus and sediment buildup also alters water clarity, and can pose human health risks by promoting the growth of toxic blue-green algae or raising bacteria levels.
Reducing phosphorus pollution requires striking a balance between conservation practices and ensuring economic viability for farmers in the region. According to the Green Lake Association, a majority of the priority areas in the watershed are located on privately owned farms, and participating in conservation strategies is voluntary.
"We don't believe that crop yields and water quality are mutually exclusive. However, in this case, an environmental challenge becomes even more challenging, since it is interwoven with social constructs, political boundaries and voluntary landowner participation," says Prellwitz.
That's where the interdisciplinary reach of the Nelson Institute comes in.
Kucharik has teamed with two other UW experts — Anita Thompson, a professor of biological systems engineering and incoming chair of the Nelson Institute's Water Resources Management program, and Jake Vander Zanden, a professor of zoology with the UW Center for Limnology – to lead an interdisciplinary analysis of the lake and its watershed. Two Nelson Institute graduate student project assistants, Annie Lord and Sarah Fuller, will spend the summer of 2015 – and beyond – reviewing the many studies that have already been done on different aspects of the lake; investigating the physical and natural makeup of the watershed; and compiling social science data from personal interviews and surveys.
The goal is to develop information and models that will support the management plan and help restore Green Lake. Through the process, Prellwitz – a UW alumna who studied under Thompson – also hopes to learn broad lessons that can be applied to other communities that face similar water quality issues.
"Our goal is to use the Nelson Institute's involvement as a catalyst that creates a model for watershed management," Prellwitz says. "We want to improve water quality on Green Lake in a way that creates a framework to tackle these issues and validate solutions."
For his part, John Nelson recognizes that the lake is not likely to completely return to its pristine historical conditions. Still, he'd like to see a reversal of the trend toward degradation.
"I want to change the direction — not just the rate — of the slope of the decline," he says. "I know there's no going back, but what I inherited should be available in some similar form to people for generations to come."