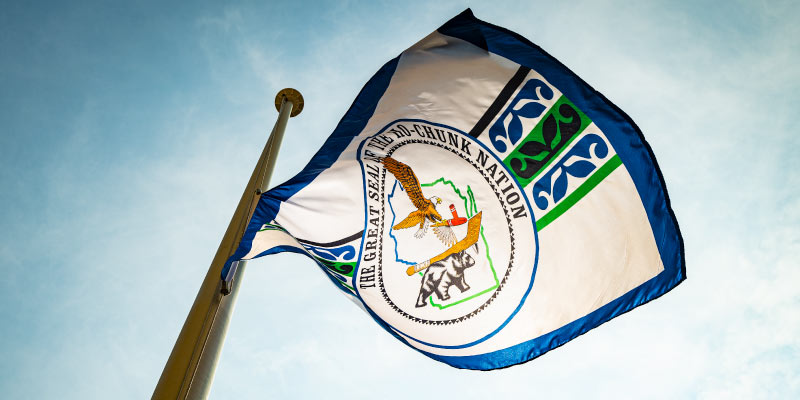 While Elliott Funmaker of the Wisconsin Dells Singers drummed a song passed down through generations, officials raised the Ho-Chunk Nation of Wisconsin flag outside of the Waunakee Village Hall on the first day of Native American Heritage Month.
The flag will fly during November to honor all those who came before Waunakee existed. In a permanent installation, Waunakee and Ho-Chunk Nation officials also added new 15-inch diameter circular emblems on one of the village's "Welcome to the Only Waunakee In the World" entry signs, with plans to add them to the additional three signs.
"It really has been an honor for us to engage and build friendships with the Ho-Chunk Nation," Village Administrator Todd Schmidt said during the November 1 event.
These actions further build on the efforts of the Village of Waunakee to recognize and celebrate the Ho-Chunk Nation. In 2020, Waunakee entered into a multi-year partnership with UniverCity Alliance's hallmark UniverCity Year program(UCY), and much of the work focused on relationship-building efforts with the Ho-Chunk Nation.
"This is the first day of Native American Heritage Month," Ho-Chunk Nation Public Relations Officer Casey Brown said during the flag raising ceremony. "I'm really happy that in the Village of Waunakee, it's not just a month, especially with UniverCity Year. It's been an ongoing process. It's not just one day or part of the year."
The decision to work with UCY came after Waunakee began reflecting on how welcoming their community is toward employees and residents following the racially-charged murder of George Floyd by a police officer in Minneapolis in 2020.
Waunakee launched community wide discussions about racial awareness and a campaign to tell individual stories of community members and learn how differences can unite a community in an effort to better understand how race and identity shape the quality of life.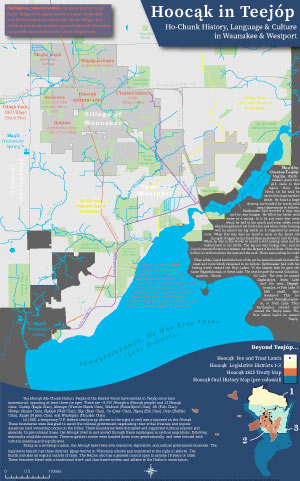 Around this same time, the Village of Waunakee looked toward celebrating 150 years as a village in 2021. While a cause for celebration, the significant milestone prompted officials to deepen their understanding that Waunakee stands on land that is not theirs but that of the Ho-Chunk Nation of Wisconsin. The Hoocagra (Ho-Chunk Nation), People of the Sacred Voice, have been stewards of their ancestral lands and waters, Teejop, since time immemorial.
The partnership with UCY was aimed at building on those efforts to realize transformational change.
During the November 1 ceremony, Village President Chris Zellner acknowledged that Waunakee strives to be welcoming and inclusive to everyone and that raising the Ho-Chunk Nation flag is an important part of that effort.
"I'm so proud of our community and our growth as an inclusive community," Zellner said. "I've always said I want Waunakee to be a welcoming place to everyone. This is one of those steps in doing that."
Partnership impacts
As a result of the UCY partnership, Waunakee's Village Board unanimously approved a land acknowledgement statement on Sept. 20, 2021. The statement recognizes that Waunakee is located on land that is part of the ancestral territory of the Ho-Chunk people, cites atrocities imposed on them and pledges that the village will "advocate for a shared future" through "relationship building, education, and action."
Schmidt read the statement during the flag raising ceremony.
"There was a time when these sorts of agreements were thought of by Native Nations as 'bad paper' because one side didn't uphold the words," Schmidt said. "We in Waunakee don't intend for this to exist as bad paper."
Additional outcomes of the partnership include:
Recommendations for physical installations, art exhibits and a speaker series in collaboration with the Waunakee Public Library to educate the community about Ho-Chunk Nation of Wisconsin's history, language, culture, and ecology (see the Ho-Chunk Nation of Wisconsin map of cultural resources).
Community education sessions in March and April 2021 at the library where anyone in the community could learn more about the Ho-Chunk Nation of Wisconsin.
Guidelines and protocols for the Ho-Chunk Nation of Wisconsin's cultural resource management in the village's green spaces.
Resources and curricula for the Waunakee Community School District to guide and assist in teaching about the Ho-Chunk Nation of Wisconsin.
The full list of completed projects can be found on UniverCity Alliance's website.
"I give a lot of credit to Waunakee for acknowledging it had work to do on making their community one that's welcoming of all people. This partnership shows what's possible when the university listens to what communities need and get them to the right people at UW–Madison," UniverCity Alliance Managing Director Gavin Luter said. "So many community partners — from the Ho-Chunk Nation to the public schools to the senior center — were involved in making these projects possible. We're grateful to Waunakee for trusting us enough to engage in a partnership about this very sensitive and incredibly important topic."
Statewide recognition
In recognition of efforts to pursue social justice, racial equity, inclusion, and community civility, the Wisconsin Policy Forum, nonpartisan policy research organization, recently honored the Village of Waunakee with a 2022 Salute to Local Government award.
Zellner championed the initiative on behalf of the village and recognizes that the village's work in this area is a good start.
"We in Waunakee thank the Wisconsin Policy Forum for this award, but we also know that we are far from perfect," Zellner said. "I always say that Waunakee should strive to be a welcoming community to all, and when anyone doesn't feel that way, we've fallen short.
"While we still fall short, we are striving to do better and be better. This recognition is really confirming that small and medium sized communities like Waunakee can take some first steps, and while small, they are steps in the right direction," he said.
The 30th annual Salute to Local Government awards recognizes the positive impact that public sector ingenuity and excellence have on taxpayers and communities throughout Wisconsin.
Award categories showcase local governments and school districts for innovative problem-solving, efforts to advance racial equity, and intergovernmental and public-private cooperation. Individuals in the public sector are also honored for excellence and lifetime achievement.
Salute to Local Government award recipients will be recognized on Wednesday, Nov. 16 at the Italian Community Center in Milwaukee. Learn more about the event and how to participate.