Nelson Institute professor and founder of the Carnivore Coexistence Lab Adrian Treves has been named a Vilas Associate by the Office of the Vice Chancellor for Research and Graduate Education at the University of Wisconsin-Madison. The Vilas Associate Competition "recognizes new and on-going research of the highest quality and significance" and awards recipients salary support and research funding over two fiscal years.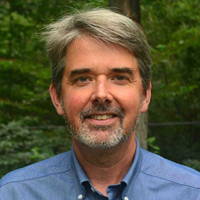 Treves will receive support for his research titled, "Non-lethal predator control evaluated with gold-standard experiments" which has two main goals. First, Treves hopes to use the funding to launch a field experiment on a non-lethal method of protecting livestock and wolves.
"If we complete the proposed randomized, controlled experiment, it will add to four similar experiments my lab has already completed," said Treves, who shared that he and his graduate students have  already completed work in Wisconsin around the Bad River Ojibwe reservation, in Chile, and in Canada. Based on these experiments, Treves says he will be able to "offer a varied toolkit for almost any setting where domestic animals share land with top predators, such as wolves, grizzly bears, big cats, and the like."
In addition to the experiments, Treves also plans to use the funding to conduct outreach and academic engagement through a series of integrated workshops. The first workshop is set for August 2021 and will introduce land owners to the strengths and weaknesses of various non-lethal methods as well as knowledge of predators. In particular, Treves plans to host these workshops based out of Germany, where he plans to do much of this work.
"I plan to use the Vilas funding to travel to Germany in the summer of 2021 and again in mid-2022, when I hope to live there for a few months during my sabbatical. I plan to collaborate with the federal state of Lower Saxony on their expanding program of wolf-livestock coexistence," Treves said. "This is also a chance for me to visit my mother's birthplace in Hamburg and the relatives I still have there. Additionally, I will have an opportunity to reconnect with colleagues in France and Slovenia. So, I want to thank the Vilas trustees and my colleagues who reviewed my proposal."