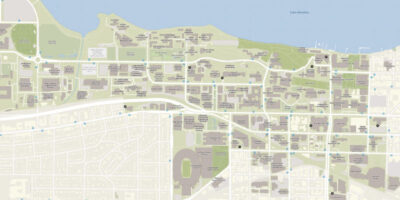 The landscape of UW–Madison is one aspect of campus that distinguishes us from our Big Ten rivals. From postcard-perfect lakeshores to woodland trails to thriving prairies, the UW's physical environment is something special. So, what's being done to sustain our campus environment for future generations? In recent years, UW–Madison has made great strides in its environmental and sustainability efforts, including our first Sustainability Tracking, Assessment and Rating System (STARS) rating in 2019. Here are 10 environmental features you might not know about.
Lightbulbs
Science Hall
We'll start close to home with Science Hall's basement (or the "garden level" as its office workers like to say). In 2020, then-Office of Sustainability intern Will Awve — with support from the Green Fund — led the charge to replace the flickering fluorescents in Room 70 with more environmentally friendly bulbs. The swap has saved $230 annually on bills, as well as literal tons of carbon dioxide.
First Nations Cultural Landscape Tour
Education Building
One can't consider the environment without considering its history, and the land that the UW campus occupies — Teejop (day-JOPE) — has a rich history that far predates the state of Wisconsin. Aaron Bird Bear created the First Nations Cultural Landscape Tour in 2003 to create community for Indigenous students, and with his co-tour lead Omar Poler, it's since grown into an integral piece of campus — from training new faculty and staff to educating the community.
Reusable To-Go Containers
University Housing Dining Markets
Across University Housing's six dining locations, students can take their food on the go with standard-issue reusable containers through its "Ticket to Takeout" program (created by Nelson grad Breana Nehls). It starts with a $5 pay-in at the start of the academic year, then diners take their food to go, return unwashed containers to a vending machine, and get a new one.
Permeable Pavement
Nancy Nicholas Hall
The School of Human Ecology's home in Nancy Nicholas Hall is one of 15 LEED certified buildings on campus. Built in 2012, 95 percent of its construction waste and materials were reused or recycled, its landscaping features water-conserving drought-tolerant plants — and its pavement is permeable, which helps in stormwater management.
Electric Vehicle Charging Stations
Linden Drive Garage (Lot 67)
Campus is full of green-commuting options, including bike shares, walking paths, and free buses. Did you know there are also 13 electric vehicle charging ports in 11 campus parking ramps? The first station was installed in 2014, and the most recent — Lot 67 (across from the Dairy Forage Research Center) — opened in January 2021.
Lake Ice Records
State Climatology Office
Ever wondered how the duration of Lake Mendota's ice cover has changed over time? Look no further than the State Climatology Office, housed in the Atmospheric, Oceanic and Space Sciences Building. Not only is this record handy for ice fishers and pond skaters, but it paints a picture of our state's changing climate. (Read more about the State Climatology Office here.)
Bird-Strike Mitigation Glass
Ogg Hall
If you're a bird flying around Ogg Hall, your chances of survival have increased greatly thanks to a student-led Green Fund project. In 2020, the university applied small circular decals to Ogg Hall's ground-level windows, creating a dot-grid pattern that birds can identify as glass (rather than confusing the reflection of sky and trees for a destination). In 2022, this type of bird-safe glass was admitted into state building code.
Stormwater Retention
Nicholas Recreation Center
When it came time to replace the Southeast Recreational Facility, sustainability was at the forefront of its replacement's design. Enter the Nicholas Recreation Center (or "the Nick"), which opened in 2020. Among its sustainable features, the roof was constructed as a stormwater retention system, collecting rainwater and using it to water the landscape beds below.
Solar Panels
Gordon Dining and Events Center
When Gordon Commons made way for the Gordon Dining and Event Center, it didn't just bring better carpeting and fresher food. In 2019, a collaboration between Madison Gas and Electric, the Office of Sustainability, the Associated Students of Madison (ASM) Sustainability Committee, and the student group Helios led to the installation of a large solar array that, so far, has reduced more than 130 tons of carbon dioxide (that's about the weight of 28 midsize elephants).
Campus Sustainability Map
Online
There's a lot more where this came from! In March 2021, the UW–Madison campus sustainability map went live, providing a visual representation of the UW's environmental and sustainability efforts. With support from the Office of Sustainability, the map was created by Audrey Stanton, Nelson Institute environment and resources PhD candidate; Mackenzie Thelen, a 2021 graduate; and Nelson Institute Professor Cathy Middlecamp. 
See these 10 items in a map view.