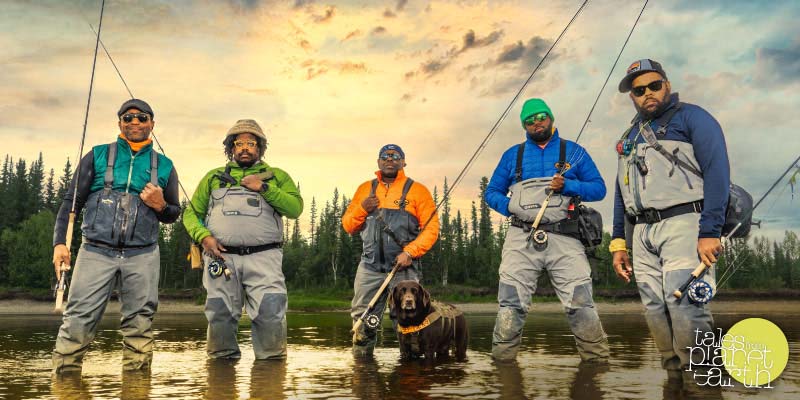 Tales from Planet Earth – Blackwaters: Brotherhood in the Wild
"Where do I, as a Black man, fit in nature?" "How do we hold space in nature for our next generation of young men?" These are some of the questions posed by the new documentary Blackwaters: Brotherhood in the Wild, which follows five men with five unique perspectives as they embark on a fly-fishing adventure in the Gates of the Arctic Circle National Park. For each of the men, nature has been a source of healing, and self-fulfillment and inspiration, particularly around the topic of representation in the outdoors.
The Nelson Institute's Tales from Planet Earth film series is thrilled to host the cast of Blackwaters as they engage with the Madison campus and community, share their experiences, and offer free film screenings.
Join us on September 16, 17, or 18 for a free screening of the film and a chance meet the cast, including:
Chad Brown, director and creative director, adventure photographer, cinematographer, and founder of Love is King
James Edward Mills, producer and founder of the Joy Trip Project
Jahmicah Dawes, owner and CEO of Slim Pickins Outfitters
Nic Brooks, founder and CEO of Outdoor Gear and Beer, LLC
Alex Bailey, founder and executive director of Black Outsince, Inc.
Schedule
Attendance is free for all events; secure your spot as seats are limited. Questions? Contact us at events@nelson.wisc.edu.
Contributing Partners
About Tales from Planet Earth
Tales from Planet Earth is a film series hosted by the Nelson Institute for Environmental Studies. These free viewings are selected to feature compelling narratives to the work of scholars and community organizations who advocate for environmental and social justice. Originally a film festival, Tales from Planet Earth has evolved into a community based, interactive engagement and learning experience.
Support the Nelson Institute
The Nelson Institute is pleased to offer a variety of free public programs, lectures, and events, demonstrating our commitment and dedication to the Wisconsin Idea: the principle that education should influence people's lives beyond the boundaries of the classroom.
If you would like to support Tales from Planet Earth and the Nelson Institute's related programming, please make your gift.