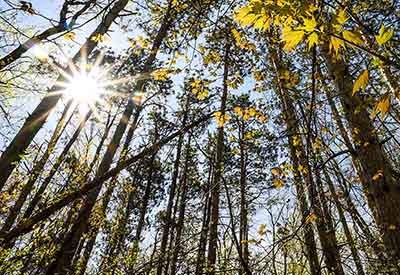 Center for Ecology and the Environment Fall Symposium
The Center for Ecology and the Environment will host Dr. Katherine Suding as keynote speaker at its Fall Symposium.
Dr. Suding is a distinguished professor of ecology at the University of Colorado Boulder, where her research focuses on ecosystem dynamics and management, ecological restoration, biodiversity, and conservation in a rapidly changing world.
Talks by early-career UW-Madison faculty and postdocs on a variety of ecological topics will precede Dr. Suding's address on both days.
The symposium is free and open to all.
How to Participate
You can attend in person in the Ebling Auditorium at the Microbial Sciences Building, 1550 Linden Drive, or online. You can join the symposium on Zoom anytime after it begins. The webinar ID is 972 3934 3434 and the passcode is fall2021.
Schedule
Monday, October 18
Emcee: Thea Whiteman
3 p.m.: Intro and welcome – Sean Schoville, CEE Director
3:05 p.m.: Cooper Rosin – Defaunation, Seed Predation, and Timber Regeneration in an Afrotropical Forest
3:30 p.m.: Min Chen – Terrestrial Ecosystem Carbon Cycle and Climate Change Mitigation
4:00 p.m.: Invited keynote speaker Dr. Katharine Suding –Building Scientific Civic Engagement Through Place-Based Relevant Research: The Boulder Apple Tree Project
5 p.m.: Reception
Tuesday, October 19
Emcee: Rick Lindroth
3 p.m.: Intro and welcome – Sean Schoville, CEE Director
3:05 p.m.: Sedona Chinn – Investigating Content and Effects of Environmental Messages: Invasive Species on Facebook
3:30 p.m.: James Crall – Collective Resilience: Social Modulation of Ecological Stressors in Bees
4 p.m.: Invited keynote speaker Dr. Katharine Suding – Resilience, Recovery, and the Ecology of Change
5 p.m.: Reception