March 29, 2016
An advocate for sustainability and social equity, a corporate leader connecting the health of people and the environment, and a distinguished professor and restoration ecologist have been named recipients of the Nelson Institute for Environmental Studies' third annual alumni awards, established in 2014 to spotlight the accomplishments of the institute's nearly 4,000 alumni. 
Amy Kesling, who earned an undergraduate certificate in environmental studies in 2009 with a bachelor's degree in geography and sociology, is the recipient of the Nelson Institute Early Career Alumni Award, which recognizes the accomplishments of alumni who are making a significant difference in the world soon after graduation.
For nearly six years, Kesling has led administrative and program coordination at Sustain Dane, a Madison-based nonprofit organization committed to creating sustainable solutions for homes, schools, businesses and municipalities. Kesling coordinates Sustain Dane's Sustainable Business Network, Badger Bioneers Conference, a growing volunteer and internship program, and, most recently, the Step Up: Equity Matters initiative.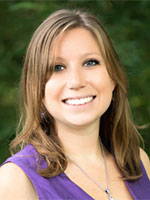 Amy Kesling
Kesling and three others founded Step Up in 2014 to help employers address equity in the workplace and advance solutions to create inclusive, welcoming and thriving work environments. One of 35 local innovations recognized by Madison Magazine in 2015 for creating social change, the Step Up program includes a series of workshops to help businesses increase workforce diversity and create company cultures that embrace inclusiveness. A monthly book club, community coffee conversations and collaborations with local organizations doing similar work have also been incorporated.
"What inspires me, and what I love so much about our work at Sustain Dane, is diving into what makes for a sustainable future for all of us, and how all of us can be part of the solution," Kesling writes in a blog post on the Sustain Dane website. "Walkable and bikeable cities, access to fresh, local food, inclusivity as a top priority – these are just part of my vision for a sustainable Madison, and I'm lucky enough to have a job where I can work every day to get us there."
Two Nelson Institute Distinguished Alumni Awards, which honor alumni who have demonstrated considerable professional achievement and/or community service since graduation at least ten years ago, will be presented this year to Ron Meissen and Roberto Lindig-Cisneros.
Ron Meissen, who in 2006 earned a doctorate in Land Resources and certificate in Energy Analysis and Policy (EAP), is honored for his more than 30-year career connecting the health of people and the environment at Baxter International Inc., a U.S.-headquartered multinational corporation.
Meissen already held a full-time management position with Baxter when he began his graduate studies at UW–Madison, commuting from Chicago for more than six years to complete his doctorate, notes Pat Eagan, a UW-Madison emeritus professor of engineering who served as Meissen's Ph.D. advisor and submitted the award nomination.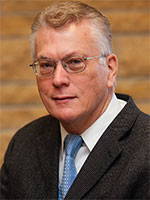 Ron Meissen
As senior director of sustainability at Baxter, Meissen leads a number of global corporate programs to integrate sustainability practices and enhance long-term business value. He championed the company's use of renewable energy, manages company greenhouse gas emission reduction strategies, and develops strategies to respond to emerging sustainability issues such as freshwater availability, loss of biodiversity and climate change.
His leadership has contributed to Baxter's increased recognition in the industry, including, for the 16th consecutive year, being included in the Dow Jones Sustainability World Index and Sustainability North America Index. In 2008, he earned the U.S. Environmental Protection Agency's Spirit of America Summit Award for his leadership in advancing awareness and action in response to global climate change.
Meissen works frequently with legislators, industry leaders, shareholders, students and other groups to drive action on climate change; assists businesses and universities with their sustainability programs; serves in numerous advisory roles, including chairing UW-Platteville's Sustainable and Renewable Energy Systems Advisory Board; and provides tireless mentorship and support to students of all ages. He also remains involved with EAP, for example in 2014 helping to coordinate an EAP capstone class project to reduce Baxter's carbon footprint in Colombia, and he recently provided two thesis opportunities for Nelson Institute graduate students.
"He is truly focused on developing future leaders in sustainability, and supports them wholeheartedly," a colleague of Meissen shared in the award nomination. "His spirit and enthusiasm is contagious, and will certainly carry his legacy into the future."
Roberto Lindig-Cisneros, a professor with the Institute of Ecosystem and Sustainability Research at the Universidad Nacional Autónoma de México, who earned his doctorate in Land Resources (now Environment and Resources) in 2000, is recognized for his excellence in interdisciplinary teaching and research in environmental restoration.
In his 14-year career, Lindig-Cisneros has mentored numerous undergraduate and graduate students who have gone on to productive careers in academia and consulting, published more than 100 papers in English- and Spanish-language research journals, and explained the science and practice of restoration ecology in a forthcoming textbook. This textbook, Apuntes de Ecología de Restauración y Restauración Ambiental, translated to Notes on Restoration Ecology and Environmental Restoration, is the first book on restoration ecology to be published in Mexico and believed to be the first Spanish-language text on the subject.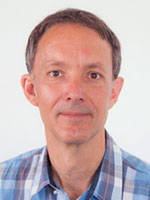 Roberto Lindig-Cisneros
A leader in participatory research, many of Lindig-Cisneros' studies are coordinated in collaboration with the native people of the central Mexican state of Michoacán. For example, he has negotiated access to a forest "ejido" (an area of land in Mexico where members individually farm designated parcels and collectively maintain communal holdings) in the small village of Nuevo San Juan Parangaricutiro and engaged the community members to participate, to mutual advantage, in his field restoration research.
He has also contributed scientific expertise to critical local environmental challenges in Mexico, including reforesting bare areas that were covered in volcanic ash and improving the quality of the water supply in the city of Morelia. His research has yielded new techniques and strategies for recovering degraded ecosystems for both production and conservation purposes.
In nominating Lindig-Cisneros, UW-Madison Botany Professor Joy Zedler said his work serves as a model for Nelson Institute graduates and as a testimony to fulfilling the institute's ideals of imaginative, interdisciplinary research, hands-on education, and public engagement. She also applauded his continued connection to the university.
"Throughout his career, [Roberto] has retained strong ties to UW by hosting researchers and co-publishing, all enhancing the institute's global reputation," she writes in her nomination.
The 2016 alumni awards will be presented at the Nelson Institute Earth Day Conference on April 25. The awards are open to all alumni of the institute's graduate and undergraduate degree and certificate programs. Learn more.