Sophia Ziehr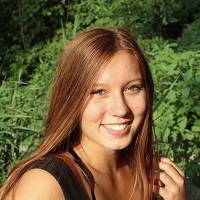 What are your majors? International studies and environmental studies, with certificates in German and sustainability
Expected graduation: December 2023
What inspired your interest in the environment and/or community? When I was a kid, my parents started a grocery store that sells only just, local, and organic foods. I grew up in and around this store and quickly learned how important environmentally friendly foods were and how much they impacted the community.
In high school, I was able to travel to Germany. There I saw an entire country that made sustainability a priority and I was struck how accessible it was to every citizen. This experience opened my eyes to how it was possible for the environment to be a priority and how far the U.S. had to go to catch up. This experience, along with my love for travel and the natural world, cemented my desire to get a degree in environmental studies. I hope to help make sustainable living attainable for people around the globe.
What would you say (or do you say) to other students about CESP and the Nelson Institute? Being part of CESP broadened my view of environmental issues because this group of students are pursuing a wide variety of majors and have a wide range of experiences and viewpoints about these issues. Because of this, I have met people I may not have otherwise met and it opened my mind to how environmental issues impact areas in ways I would not have thought.