Kate Wimmer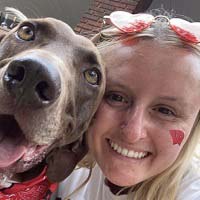 What are your majors? Biology and global health with a certificate in sustainability
Expected graduation: May 2023
What inspired your interest in the environment and/or community? My interest in the environment started because I grew up in Colorado, surrounded by some of the most beautiful things the environment has to offer. My interest in environmental sustainability started when I became vegetarian about nine years ago and I started to think about how the choices I make can have an impact on the environment. I definitely found my passion in the link between environmental health and human health when I began to take environmental and global health based classes in college!
What would you say (or do you say) to other students about CESP and the Nelson Institute? CESP has been a great addition to my academic and personal life. I have been able to learn so much regarding community engagement and the environment as well as make amazing connections with all kinds of people. It is a great way to surround yourself with people who have a similar interest in the environment and a passion for helping others. Overall, CESP provides students with opportunities that they couldn't get anywhere else on campus.
Something few people know about you: One thing that not many people know about me is that I recently decided to pause my applications for graduate school and take a gap year. My dream is to go to graduate school in Colorado, which is super expensive, so a gap year will allow me to save money and follow my dream! I also plan to adopt a puppy during my gap year!