Kalie Whitehorse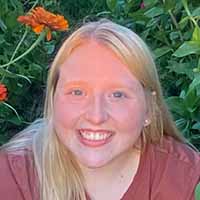 What are your majors? Psychology and environmental studies with a certificate in American Indian Studies
Expected graduation: May 2022
What inspired your interest in the environment and/or community? I'm from Madison, Wisconsin, so being near the lakes sparked my interest in the environment because I was seeing how poorly our lakes were being treated and how much the local ecosystems were struggling with algae blooms in the summer.
What would you say (or do you say) to other students about CESP and the Nelson Institute? This is my third semester in CESP and I have made so many connections with other students in the program and it feels like a family whenever I go to class. I really enjoy being able to see familiar faces and it helps make a large university feel smaller.
Something few people know about you: In my free time, I really like to read, take walks on the bike path along Lake Monona, and spend time with my two yellow labs, Jordy and Lola.