Jane Schaub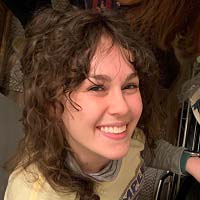 What are your majors? Environmental studies and business management
Expected graduation? May 2023
What inspired your interest in the environment and/or community? Growing up I had the opportunity to visit several state and national parks across the U.S. I found myself in awe of the beauty and strength of nature. As we hiked and explored, my parents taught me the importance of respecting these natural places so that future generations could enjoy them as we did. This idea of sustainability and respecting nature stuck with me as I grew up and led me to pursue a career in sustainability related work.
What would you say (or do you say) to other students about CESP and the Nelson Institute? CESP is a great opportunity to learn about the important intersections of local community and environmental work. CESP also creates a welcoming community of students and faculty that are interested in incorporating environmental work into their future career and it is a great chance to get to know people from a wide variety of interests!
Something few people know about you: I have always been very crafty and will crochet or bead when I need a break from school and other work.
Anything else? I have always enjoyed community-related projects. This year I am one of the co-directors of Slow Food UW's Family Dinner Night where I work with a team of fellow students to put on a weekly community meal utilizing locally sourced ingredients!