Sagen Quale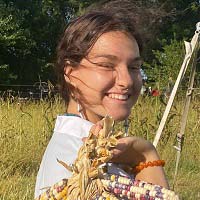 What are your majors? Community and environmental sociology and environmental studies with a certificate in food systems
Expected graduation: May 2023
What inspired your interest in the environment and/or community? I am a PEOPLE Scholar here at UW, a member of the Community and Environmental Scholars Program, and a part of student organizations like FH King and Wunk Sheek. I am a person with many identities, one of them being that I am a citizen of the Red Cliff Band Of Lake Superior Chippewa Indians. I have always been indigenous, but not until college did I find the significance of reconnecting with being indigenous.
Through my schooling and joining the club Wunk Sheek that allows me to be around my Native American peers I have grown to have a deep passion for wanting to help Tribal communities in gaining their food sovereignty back, and reshaping it in a way that can tailor to them in this modern day. I have learned through schooling and my short time being a part of CESP, that as an academic, and having different lived experiences from underrepresented communities, the first step is asking what they need from their point of view, rather than telling them what it is that will help them.
My internship with the USDA through the program of the NRCS (Natural Resources Conservation Service), I learned there is a need for indigenous voices to tell the story and frame the needs of the community, and with the help of my secondary education that is what I plan to commit my career to doing.