Sagen Quale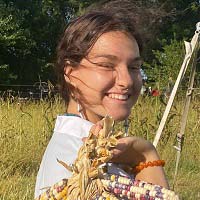 What are your majors? Community and environmental sociology and environmental studies with a certificate in food systems
Expected graduation: May 2023
What inspired your interest in the environment and/or community? I have always had a passion for being outdoors, but not until school did I realize how deeply intertwined human issues and environmental issues are related. After learning about those lessons, and connecting them to my own personal family ties to the land through being Native American, I have grown a passion to advocate for and with the people who are effected the most by environmental issues.
What would you say (or do you say) to other students about CESP and the Nelson Institute? CESP is a great opportunity to converse and network with like-minded individuals who share your same passions on finding ways to combat the typical stance on environmental issues.
Something few people know about you: I aspire to own an area of land one day that can be a space which facilities a person's growth and connection to the food we eat and the land we live on.
Anything else? I have been to Ghana, Ireland, Mexico, and Canada and hope to keep expanding my list as my life continues.