Grace Puc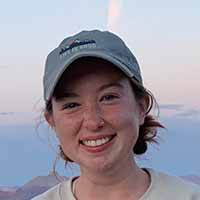 What are your majors? Environmental sciences
Expected graduation: May 2021
What inspired your interest in the environment and/or community? Growing up I always had an intense fascination with the world and sought to learn, see and do as much as I could. My love for Earth was definitely fostered by my dad with whom I have spent my entire life hiking and travelling (to 10 countries!); I hope to never stop exploring our beautiful planet. Studying environmental science in college means becoming an advocate for the Earth.
Climate change-induced environmental degradation is the most pressing problem the human race currently faces, and I have fervent aspirations to become a part of the remedial process; it is my intention to take advantage of my time here as I want to do everything in my power to preserve our world's beauty, conserve its resources, and ensure its health for generations to come.
My passion for protecting the environment has been prevalent since I was young. As kids, my best friend and I would take a bag and walk around our neighborhood streets picking up trash. We would also have lemonade stands to raise money for our "charity" we called "Pennies for Polar Bears" when we learned that they were endangered as a result of climate change. It wasn't until AP environmental science in high school that I realized this passion was something that I could study and eventually turn into a career!
What would you say (or do you say) to other students about CESP and the Nelson Institute? CESP is more than just a seminar for an hour every week — it's a network that has provided me with connections to events, organizations, students, staff and beyond that in a lot of ways is so much more valuable to me than traditional "school knowledge."
Something few people know about you: Both of my dad's parents immigrated here from Slovenia when they were teenagers making me 50 percent Slovenian. I went to Slovenian school at a cultural center near my home town for eight years.
Something else about you? I am co-president of Campus Food Shed!