Doran Mackowski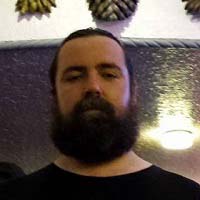 What are your majors? Mechanical engineering
Expected graduation: December 2022
What inspired your interest in the environment and/or community? I have been interested in the environment for as long as I can remember. I was raised in an environmentally conscience household at a time where environmental issues were constantly at the forefront of media, acid rain, ozone layer depletion, greenhouse emissions, etc. I have always appreciated nature and the outdoors and love to hike and camp.
What would you say (or do you say) to other students about CESP and the Nelson Institute? The Community Environmental Scholars Program is a supportive environment for growth and self-reflection. CESP is a fantastic opportunity to engage with a relatively diverse group of highly motivated and passionate people that share some similar interests. I was surprised at how much I could learn with such a short time commitment, all while still having a fun time with good people.
Something few people know about you: I have attended over 500 concerts.
Something else about you? My decision to return to school was in large part based on a desire to serve. I feel that almost every aspect of engineering from design and material selection, to production processes, to the end use can have significant environmental impact. I would like to devote my professional life to using technology to mitigate negative human impact on our environment, likely in the energy sector through renewable energies and efficiency.