Savannah Lipinski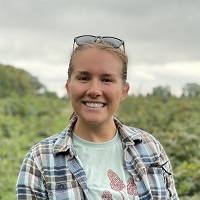 What are your majors? Geology and geophysics, Jewish studies
Expected graduation: May 2023
What inspired your interest in the environment and/or community? The first time I remember hearing the phrase "climate change" was in 2005 as I sat on the floor in my grandmother's basement watching my former home and birthplace, New Orleans, Louisiana, be demolished by hurricane Katrina. I watched as my mother wept and knew, even at just 8 years old, that this would be the issue of my lifetime. Even at a young age, I knew that it would take community support and engagement in order to save the world from the devastating effects of climate change.
Growing up, I was always fascinated with the science of the natural world, choosing to spend my time outdoors collecting bugs or simply observing the processes occurring around me. I knew, even as a child, that I wanted to make a career out of studying and advocating for the beautiful planet that we live on. By the time of my Bat Mitzvah, at 13 years old, I knew that the earth not only needed advocating for, but that it was a Jewish value to do so. At that point, there weren't many Jewish organizations whose specific focus was fighting for environmental justice. I knew that I wanted that to be my career.
As a teenager and young adult, I became very active in environmental organizing and education, and in particular, I fell in love with being an environmental educator when I took on the role of teva (Hebrew for nature) specialist at the summer camp I work at. I love working within and throughout the community to share my love of the environment and inspire action within my community through education and empowerment. I hope that through this experience, I can refine my skills as an environmental leader and learn how to engage broad and diverse communities.
What would you say (or do you say) to other students about CESP and the Nelson Institute? CESP is an incredible opportunity to meet students from a variety of backgrounds and majors and build your leadership skills. It allows you to form invaluable personal and professional relationships on campus around deeply meaningful topics like the environment, community, and identity. Also, sometimes there's free food.
Something few people know about you: I've never lived in one place for more than four years. When I graduate from UW, Madison will be the place I have lived the longest.
Anything else? My dream is to start a Jewish farming cooperative.