Eliza Lindley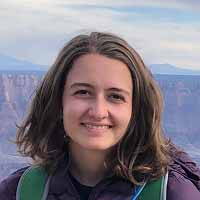 What are your majors? Environmental sciences; life sciences communication; sustainability certificate
Expected graduation: May 2023
What inspired your interest in the environment and/or community? Every time I am asked this question, it always comes back to a course I took in fifth grade called "Journaling, Biology, and Beyond." I fondly recall assignments which entailed tromping around my backyard to listen to bird calls and identifying different types of evergreen needles.
But most important of all was the main text for the course — Aldo Leopold's "A Sand County Almanac." Wrapped up in vibrant prose detailing his observations of the natural world is Leopold's thoughtful environmental ethic, an outlook that remains with me to this day. His work instilled in me a fervent desire to protect the wonders of our environment, large and small, with the recognition that we ourselves are embedded in that global ecology.
Since then, I've come to realize that community is the foundation of what it means to be human, and safeguarding our planet for future generations demands that we lean into its undeniable strength.
What would you say (or do you say) to other students about CESP and the Nelson Institute? CESP can be whatever you want it to be! Leaning into the many things it has to offer (community, connections, professional development, personal reflection) will enhance both your experience in the program and your college experience as a whole.
Something few people know about you: My freshman year of college, I had the honor of joining the University Theater production of "Julius Caesar" as a bass drum player! I was mostly there to add dramatic effect and enhance the play, but this also meant that I got to sit on the stage in a soldier costume and watch each performance unfold.