Savannah Holt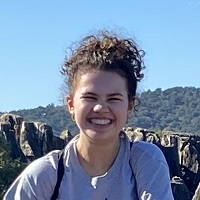 What are your majors? International business, marketing, Spanish, and sustainability certificate
Expected graduation: May 2022
What inspired your interest in the environment and/or community? My interest in the environment was inspired by a lot of different events that built upon each other over the past couple of years. I'm also still trying to figure out how my future career path can incorporate both sustainability and community elements. Since studying at UW-Madison, however, I've been inspired by living and working with the GreenHouse Learning Community and being involved with the Ethical and Responsible Business Network (ERBN).
What would you say (or do you say) to other students about CESP and the Nelson Institute? CESP is a great way to meet a like-minded group of people on a large campus, and it has helped expose me to a lot of relevant material that is not covered in my traditional classes. If you're interested in the intersections of environment and community, you should apply!
Something few people know about you: I've run three half-marathons with my mom and would love to complete a marathon at some point.
Something else about you? My favorite animal is a red panda, and I love reading!