Lily Herling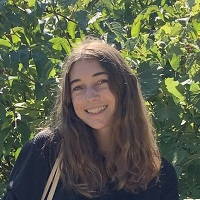 What are your majors? Community and environmental sociology with certificates in sustainability and German
Expected graduation: May 2024
What inspired your interest in the environment and/or community? Coming into college, I had no clue what I wanted to major in, let alone do with the rest of my life. Dad encouraged me to just look through the UW-Madison major and certificate catalog until something caught my eye. I saw several things I might be interested in (journalism, international studies, environmental studies) but when the community and environmental sociology major popped up, I was sold because it seemed the perfect combination of my passions.
I have always enjoyed spending time outside, but my interest in environmentalism didn't start until high school. I had several powerhouse friends who wanted to take direct action in response to climate change and other social issues so, wanting to be involved with what they cared about, I joined in with their climate demonstrations, school strikes, and social media campaigns. Through the initiative of my friends and like-minded community members we met, I grew to care deeply about the state of our planet.
I think I have my mom to thank for my interest in community involvement. She is one of the most selfless, caring, and hard-working people I know. I didn't fully appreciate this as a child, but growing up I realized that she is the kind of person I want to be, someone who seeks to bless and support those around them. I am excited for the opportunity to learn more about combining my twin passions in practical, meaningful ways through CESP.