Brianna Fay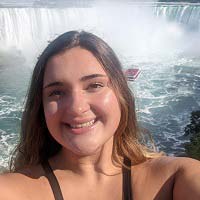 What are your majors? Chemical engineering, with certificates in biology in engineering, engineering for energy sustainability, and environmental studies
Expected graduation: December 2023
What inspired your interest in the environment and/or community? Moving 16 times, living in five different states, and jumping back and forth between eastern and western hemispheres has shown me a global perspective on the ways the world is being hit with the consequences of climate change. The chemical industry is a key player in creating and solving these environmental issues and I want to be part of the solution.
What would you say (or do you say) to other students about CESP and the Nelson Institute? I would tell other students that CESP is about learning how to be a good community partner and allows you to dive deeper into environmental topics you might not be familiar with through book readings and peer discussion.
Something few people know about you: Few people know that one of my favorite activities is drinking coffee and watching the sunrise.
Anything else? I will be volunteering through Badger Volunteers as a Food Pantry Host at the St. Vincent de Paul Food Bank this semester.