Wesley Browne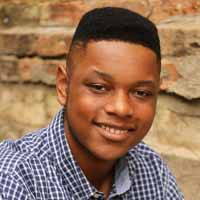 What are your majors? Life sciences communications
Expected graduation: May 2022
What inspired your interest in the environment and/or community? When I took a science class back in high school, one of the topics was pollution and toxins. I always drew an interest to try and research impacts on pollution and toxins and what kind of effect it can make on the environment and community around us. Also, in high school, we had a day called "Edgewood in the Community" where we would travel to different areas of the community in Madison and work in the environment for a day.
My most memorable trip would be travelling to the Arboretum to work on a project. The beauty of the Arboretum and other aspects of the environment drew interest to me and this inspired me to join the environmental studies certificate.
What would you say (or do you say) to other students about CESP and the Nelson Institute? This semester is my last in my undergraduate studies and also in the CESP program. I have enjoyed everything that this program has offered me and if students come up to me and ask what CESP is, I would respond by saying that it is a welcoming community of people who enjoy the environment and developing relationships within the community.