DeJah Broaster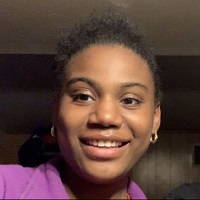 What is your major? Community and environmental sociology
Expected graduation: May 2023
What inspired your interest in the environment and/or community? The absence of opportunities for my community to engage with the natural environment made it more appealing. I took advantage of my senses, absorbing the colors, textures, and sounds of the environment when the weather was bearable enough to do so.
In middle school, I was given the opportunity to attend a science camp in Wyoming. Everything around me was either green or some other Earth tone. The air was unfathomably fresh. The only non-human sounds came from birds, the creek, and the rocks beneath my feet. It was nice, but I felt like I didn't belong. Where I was compared to where I came from were two completely different worlds. I felt undeserving of an experience that I tried for so long to imitate.
The problem was not that I was undeserving but that I knew other people needed access to this same opportunity. Now, I want to be a part of extending the branch for city kids like me to explore their love of nature and absorb all that they can.