Ronni Brent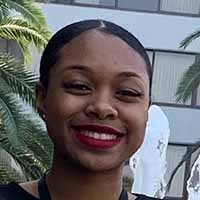 What are your majors? Microbiology with certificates in environmental studies and global health
Expected graduation: December 2021
What inspired your interest in the environment and/or community? My interests in the environment and community sparked from my early childhood experiences in Chicago. There is scarcity in fresh produce markets, community gardens and access to proper nutrition. As a child, I witnessed many of my peers and family members suffer from various chronic diseases, malnutrition and other unhealthy habits. This has inspired me to strive to work and improve nutrition at a community level which serves as the primary preventative measure for successive chronic illness.
I aspire to work in public health fighting to diminish chronic illness primarily through nutritional improvements and implementation of organizations and centers for families to access fresh produce and develop healthy habits. In addition to improving nutrition, I want to seek out more environmentally friendly ways to grow and produce fresh fruits and vegetables slowly eliminating the carbon footprint of food production.
What would you say (or do you say) to other students about CESP and the Nelson Institute? CESP is a fantastic opportunity to connect with peers and professionals who share similar passions for the environment and community. It is so much larger than a simple scholarship program, CESP is a great place to share conversation around different issues and topics affecting communities of color, rural communities, the environment and so many more urgent topics. If you enjoy discussion-based, student-led seminars then CESP is definitely the place for you!
Something few people know about you: I secretly am a fashion enthusiast.