Jordyn Benn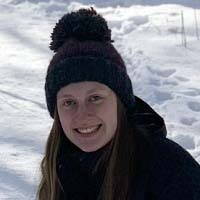 What is your major? Civil engineering
Expected graduation: May 2023
What inspired your interest in the environment and/or community? Growing up walking distance from Lake Michigan and right across the street from a county park, I have always enjoyed experiencing all the beautiful things Earth has to offer. I always loved walking through the woods, looking at flowers and animals, and watching the leaves change color in the fall. I believe everyone can benefit from learning more about the environment and how we can have positive interactions with it. I have also always been very involved in my local community and want to continue to make an impact in Madison and on the UW campus.
What would you say (or do you say) to other students about CESP and the Nelson Institute? I enjoy coming to CESP seminar and working with the Nelson Institute because it is a very supportive and engaging community. Throughout the day I work with mostly other engineering majors, so it is a nice change to come to a class with people of all majors and backgrounds! CESP has also helped me to look at the world in different perspectives that I can utilize later on in my career.
Something few people know about you: I am working on a research project to test the use of carbon-fiber reinforced polymer to create roofing systems that can be easily transported and deployed for use in temporary housing after natural disasters.