Jessica Bedtka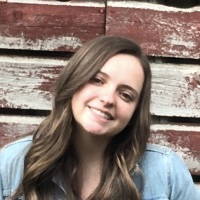 What are your majors? Geography (people-environment), political science, and environmental studies majors, with a certificate in African studies
Expected graduation: May 2022
What inspired your interest in the environment and/or community? Many of my most cherished memories from my childhood revolve around camping, picking berries in the woods, and exploring the creek near my childhood home within Wisconsin's Driftless area.
After a spontaneous decision to spend a semester backpacking and kayaking while learning about people/land relations in Montana, through the Wild Rockies Field Institute, I developed an interest in sustainable development, peacebuilding, and the political ecology surrounding food systems.
Since then, I have had the chance to learn about direct environmental community actions from many opportunities including taking part in youth driven trail building across Wisconsin and Colorado, weaving baskets in a women-led cooperative in rural Rwanda, and farming veggies in the Green Mountains for a farm-to-hospital program.
Through these experiences and my studies, I have seen the power of community and am inspired by the amount of compassion people hold for one another as well as the environment. I am interested in the potential these place-based connections have in sparking change. I am passionate about breaking down the elitism and gatekeeping so often found in both higher education and outdoor spaces to give more people the opportunity to build these powerful connections.
Outside of my academics I am an avid reader, amateur chef, and long-distance hiking enthusiast who tries to spend as much time in the backcountry as possible.
What would you say (or do you say) to other students about CESP and the Nelson Institute? CESP is a supportive space to explore opportunities, hone professional skills, and expand your education outside of the lecture hall. This little community in the Nelson Institute has granted me the ability to connect with individuals from diverse backgrounds and differing paths who hold similar passions and goals to me.
Something few people know about you: In 2021, I spent more nights sleeping outside, whether it was in a tent or under the stars, than in a building.
Something else about you? I am working on an honors thesis looking at the political ecology of a proposed hog CAFO (concentrated animal farming operation) being built in the Driftless area of Wisconsin. The project's focus is on place-based connections and analyzing how this operation may shift the community's outlook of the landscape.