MaryBeth Barker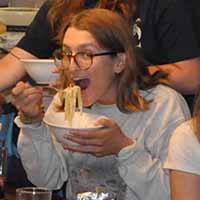 What are your majors? Conservation biology and sociology
Expected graduation: May 2022
What inspired your interest in the environment and/or community? I remember when I was a kid my mom read The Lorax to me and I started getting really worried about the rainforests being cut down. I spent a lot of time outside, mostly daydreaming and rollerblading, and I didn't want loggers in the rainforest to ruin that. Since then, I have spent a lot of time camping and hiking, and instead of being a worried kid, I am trying to make all the efforts I can through my career to keep the environment healthy and sustainable.
I chose sociology as my other major because I feel that the answer to the climate crisis lies in people and the community, since we are the ones who can make change together. I added on conservation biology because I am interested in gaining a more in-depth understanding of conservation's biological aspects as well. One of my career goals is to work in habitat restoration, and my conservation biology courses have been some of the inspiration for that.
What would you say (or do you say) to other students about CESP and the Nelson Institute? I would tell any student interested in CESP and the Nelson Institute to just take an environmental studies class and see how they like it. When I took my first environmental studies class on campus, it taught me so much about how many different perspectives there are in solving the climate crisis, and it was completely worth it. The great thing about environmental studies classes is that they are cross listed with tons of other areas of study, meaning it could probably count for required credit!
Something few people know about you: This summer I knew nothing about insects, and now all of a sudden I have delved into the world of entomology. I am taking an entomology class and working in a research lab looking at leafhopper populations, and it's really fun! Just goes to show all the things you can do with environmental studies and conservation biology.