Mariah Antigone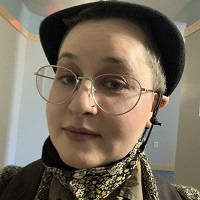 What are your majors? Nursing and environmental studies
Expected graduation: May 2022
What inspired your interest in the environment and/or community? As a young paramedic, I worked in the Driftless Region of Wisconsin, a glaciated landscape surrounding the Mississippi River Valley. It was here that I fell in love with the deep beauty of the earth and realized that our survival as a human species is dependent on our relationship to nature.
Humanity does not exist in a vacuum. The ways we build (or fail to build) community, as well as our relationship to the natural world, determines both our personal health outcomes and the health of the planet. Working in emergency medicine taught me about the injustices that many of our community members face.
Health care in America is rife with inequities, and I became troubled by the systemic failures I saw each day. Working as a nurse in a rural hospital solidified my belief that our health care system frequently fails the most vulnerable. I chose to go back to school full-time at 30 years old in order to become a better nurse, a better advocate, and a better human.
Combining my BSN with a major in environmental studies will provide me with more knowledge of how to assist my patients live their lives in accordance with the World Health Organization definition of health: "Health is a state of complete physical, mental, and social wellbeing and not merely the absence of disease or infirmity."
What would you say (or do you say) to other students about CESP and the Nelson Institute? It is not an exaggeration to say that the Nelson Institute has been the best thing to ever happen to my educational journey. I had been interested in social and environmental determinants of health for years, but studying at the Nelson Institute broadened those concepts for me in ways I never imagined.
The staff and students at The Nelson Institute and in CESP are simply the best. I feel seen and cared for as a student at the Nelson Institute and I consider Science Hall my home away from home. I would recommend CESP and the Nelson Institute unreservedly.
Something few people know about you: Something about myself that few of my classmates know is exactly how much of a Star Trek fan I am. Talk to me about Deep Space 9 or explain to me that the hate for Captain Janeway is rooted in toxic masculinity and I'll be your friend forever!