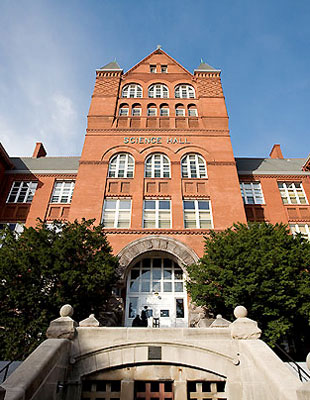 This full fellowship is awarded to new or incoming Nelson Institute graduate students interested in environmental policy. It honors former Wisconsin governor and U.S. senator Gaylord Nelson, one of America's most dedicated environmental leaders and the founder of Earth Day. The Nelson Fellowship was established by a combination of private donations and matching funds from the Wisconsin Distinguished Graduate Fellowship Program.
Throughout his career, Gaylord Nelson catalyzed environmental action. He helped develop policies, programs, regulations, public awareness events, and educational initiatives in response to potential and ongoing environmental problems brought forward by scientific communities
Gaylord Nelson served 18 years in the U.S. Senate and was twice elected governor of the State of Wisconsin. A winner of the Presidential Medal of Freedom, Senator Nelson was a major force in shaping U.S. environmental policy especially in protecting national forests, national parks and other public lands. He also was active on issues of population and sustainability.
The Nelson Fellowship is provided to recognize the role of innovative research leading to actions designed to improve the environment or mitigate problems. Support is provided for students with an interest in research that potentially leads to broad-scale changes in environmental policy, including legal, regulatory or programmatic aspects.
For more information please visit our Nelson Legacy page.
The Gaylord Nelson Wisconsin Distinguished Graduate Fellowship in Environmental Policy provides a monthly stipend, tuition and fee remission and access to a small amount of flexible funds.
Eligibility
New and incoming graduate students in the Nelson Institute who are planning to prepare a thesis or dissertation, as well as incoming Water Resources Management students who plan to pursue a double degree with a program requiring a thesis, are eligible for consideration. Selection is based on:
academic merit
quality of proposal describing the environmental issue of interest
demonstrated likelihood of successful completion of a thesis project
Selection Process and Timetable
The chairs of the institute's four graduate degree programs select the Nelson Fellow each year from new and incoming students in these programs based on their applications for admission. There is no separate application for this award, but students who enter the university in January and wish to be considered for this fellowship should submit a written request by February 1 to Jim Miller, Nelson Institute Academic Programs Office, 70 Science Hall. The recipient generally is notified in mid-March.