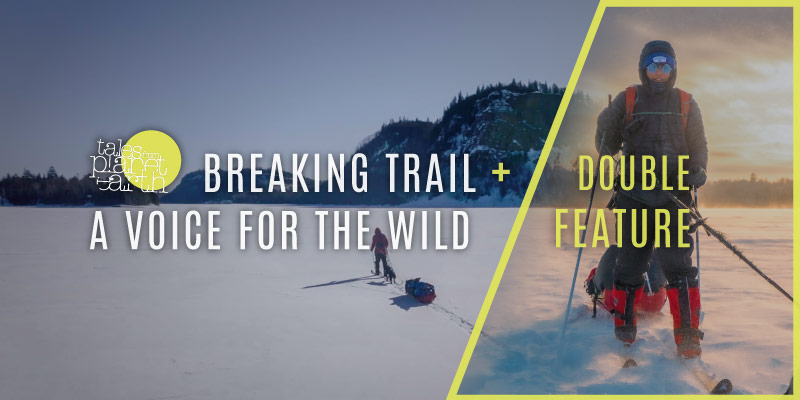 Tales from Planet Earth: A Voice for the Wild
Fresh off her debut film, Breaking Trail (2021), winter backpacker and thru-hiker Emily Ford is back with a new documentary. Premiering at the prestigious Banff Mountain Film Festival on November 7, 2022, A Voice for the Wild documents Ford's wintertime journey across Minnesota's remote Boundary Waters Canoe Area Wilderness.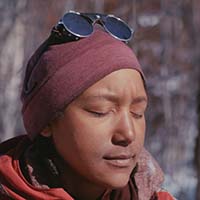 The Nelson Institute is thrilled to host Emily Ford as she visits Madison this spring to engage with the Madison campus and community, share her experience, and offer screenings of Breaking Trail and A Voice for the Wild.
Ford is the first woman and person of color to have completed the entire Ice Age Trail in winter. Through her work, Ford spreads the message that everyone deserves to discover the outdoors, regardless of race, gender identity, or upbringing.
Ford will share her story at several events in the Madison area, culminating in the Nelson Institute's Tales from Planet Earth film series screening at Union South's Marquee Cinema on Tuesday, March 7. Enjoy back-to-back screenings of Ford's films beginning at 6:30 p.m., followed by a moderated Q & A.
Other Affiliated Events
Sunday, March 5
4–8 p.m.
Lussier Family Heritage Center
3101 Lake Farm Road
Madison
Hosted by Color in the Outdoors, Dane County Parks, Dean Health Plan, Friends of Capital Springs Recreation Area, Foundation for Dane County Parks, Healthy Parks Healthy You, Ice Age Trail Alliance, Natural Resources Foundation, The Joy Trip Project, and SSM Health
Join Emily Ford for hiking, food trucks, a bonfire, and a double-feature screening of Breaking Trail and A Voice for the Wild.
Questions? Contact Alessandra Rella at arella@wisc.edu.
Monday, March 6
3–5 p.m.
Mendota Lodge at Memorial Union
800 Langdon St.
Madison
Hosted by Wisconsin Hoofers
Get to know Emily Ford as you enjoy a group hike around Memorial Union. This event does not include a film screening; be sure to come to the Union South viewing on Tuesday! This event is for students and members of Hoofers.
Questions? Contact Alessandra Rella at arella@wisc.edu.
Monday, March 6

Hosted by the UW Odyssey Project and the UW South Madison Partnership
The UW South Madison Partnership and the UW Odyssey Project welcomes Emily Ford for a double feature of Breaking Trail and A Voice for the Wild, followed by an audience Q & A. This event is invitation-only for alumni, faculty/staff, and friends of the Odyssey Project.
Questions? Contact Alessandra Rella at arella@wisc.edu.
Tuesday, March 7
5:45-6:30 p.m.
Social Justice Hub office (next to the Marquee Theater)
Join the Social Justice Hub for a pre-screening gathering. Light appetizers will be served.
Contributing Partners
About
Tales from Planet Earth is a film series hosted by the Nelson Institute for Environmental Studies. These free viewings are selected to feature compelling narratives to the work of scholars and community organizations who advocate for environmental and social justice. Originally a film festival, Tales from Planet Earth has evolved into a community based, interactive engagement and learning experience.
The Nelson Institute is pleased to offer a variety of free public programs, lectures, and events, demonstrating our commitment and dedication to the Wisconsin Idea: the principle that education should influence people's lives beyond the boundaries of the classroom.
If you would like to support Tales from Planet Earth and the Nelson Institute's related programming, please make your gift.