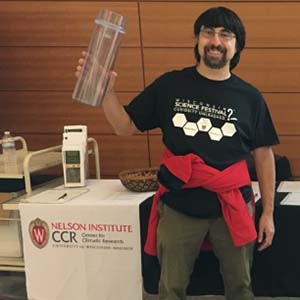 CPEP Seminar – Fostering Neurodiversity in Support of Effective STEM Learning
Speaker: Michael Notaro, Director and Senior Scientist, Center for Climatic Research, UW–Madison
Autistic youth face numerous challenges and barriers in STEM learning according to traditional teaching approaches. While the proportion of autistic youth that are drawn to STEM exceeds that of traditional learners, unfortunately few pursue STEM degrees or careers.
In response to this clear need, the collaborative team consisting of the Nelson Institute Center for Climatic Research, Welty Environmental Center, School District of Beloit, Beloit College, and Achieving Collaborative Treatment (ACT) developed an initiative in the diverse community of Beloit, Wisconsin, known as the Wisconsin Educational Leadership for Community Outreach and Mentoring for the Environment (WELCOME).
During June-July 2022, the WELCOME initiative hosted The Sky's The Limit STEM Camp for autistic middle and high school students at the Welty Environmental Center over an eight-week period.  This presentation will focus on the design and implementation of the camp and the key lessons learned to guide subsequent years' camps.
Hosted by the Climate, People and the Environment Program (CPEP).